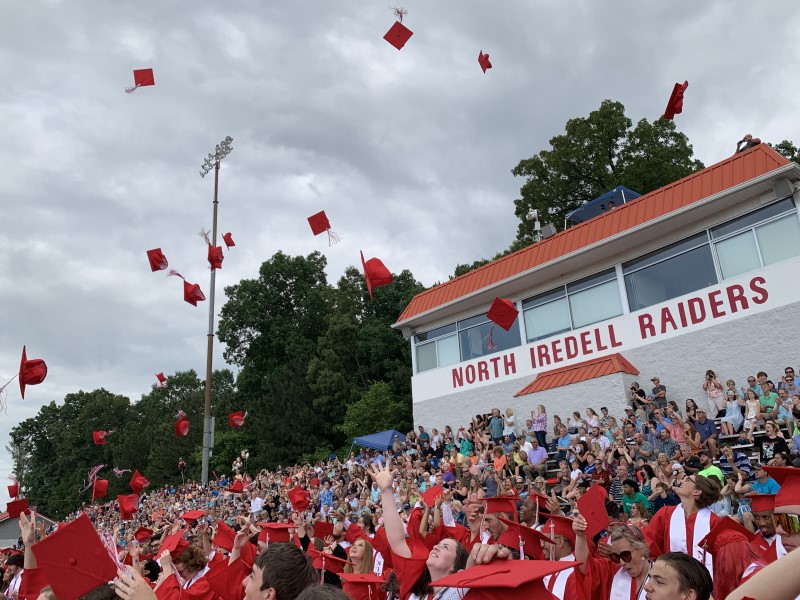 BY BRANDY TEMPLETON
North Iredell High School Senior Class President Sydney Tuthill said it seems like only yesterday that she and her classmates were headed off to kindergarten with princess and superhero backpacks.
On Saturday morning, Tuthill and the latest crop of Raiders graduates walked across the stage to receive their high school diplomas.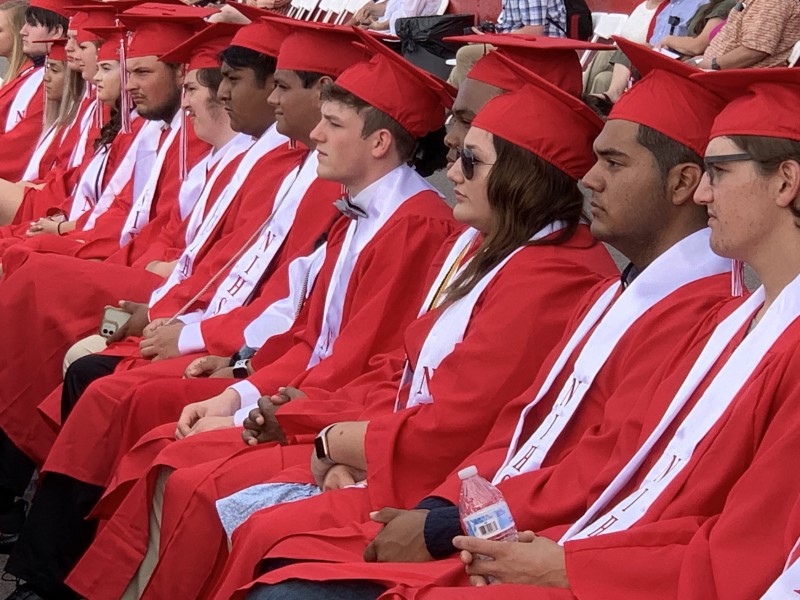 "Thirteen years later we are adults and ready for this next step in life," Tuthill said, describing the intervening years as a rollercoaster journey.
Principal Diana Jones said the class was awarded over $3.2 million in scholarship money.
"It's time to celebrate a significant milestone after years of hard work," she said. "Your success is our success."
Gracen Cardwell, the first Honor Speaker, reflected on the past and thanked those who had helped the students along the way, each playing a part in shaping them into who the young adults they are today.
She recalled breaking her mother's Homecoming crown in 2005.
"Thank you for your graceful forgiveness," Cardwell said. "You taught me how to forgive."
From liking rock music because of her dad's enthusiasm to learning to place her thesis statement at the end of the first paragraph from her English teacher, she listed of several ways her classmates have changed.
"I make my t's with a curve so not to confuse them as a plus sign in calculus," Cardwell shared.
Explaining how everyone she encountered had made her who she was, she expressed her gratitude for all who had provided some help or support.
"We are a beautiful mosaic of every person we've ever met," Cardwell said.
She thanked the families, counselors, administrative and support staff, and her friends.
Quoting Maya Angelou, Cardwell said that people will never forget how you make them feel. Sydney Tuthill, second Honor Speaker, quoted author Charles Dickens.
"It was the best of times, it was the worst of times," she said, referencing the COVID-19 pandemic that disrupted the past year and a half of the graduates' high school careers. "This truly relates to the Class of 2021."
Tuthill said her best times were Friday night football games, proms, and taking classes with her friends.
"The worst of times was you know, the pandemic and having mental breakdowns over simple things," she said.
Like classmate Cardwell, Tuthill said she was glad to learn to make mistakes graciously and had learned to make every moment count.
"In this age of foolishness and making mistakes, there's more grace given here than in the real world," she said. "We can finally say that we have made it."
Reese Cassidy, the final Honor Speaker, said she felt a mixture of emotions on Graduation Day.
"I'm scared, excited, and sad," she said. "The future is no longer some distant reality to us."
Cassidy told the class that their futures would have "rejection, loss, and setbacks so large you can't imagine."
"The future sits right in our hands," she said. "The test of true strength is overcoming those obstacles."
Quoting President Abraham Lincoln, she told her classmates the best way to predict their futures is to create their futures.
Along with a number of in absentia graduates, two deceased class members, James Xavier Helms and Edwin Alejandro Rogers, were also remembered with the releasing of two red balloons.
Photos