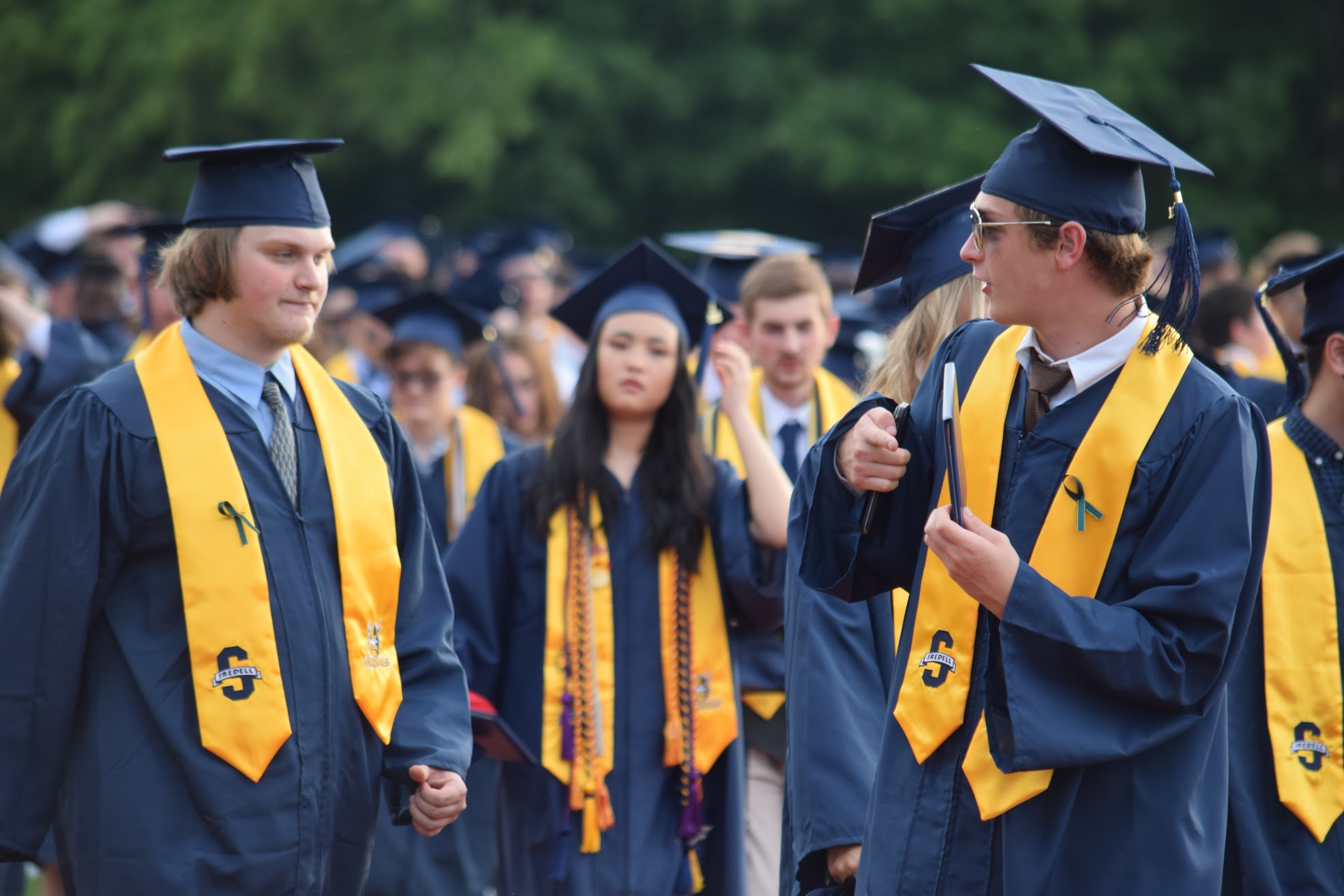 BY DEBBIE PAGE
debbiepage.iredellfreenews@gmail.com
On Friday night a huge crowd cheered on the 55th class of South Iredell High School graduates as they received their diplomas at the end of an arduous senior year, marked by the COVID-19 pandemic and online learning challenges.
After the presentation of the colors by the MCJROTC and a rousing rendition of the National Anthem by Demetrius Jean, Senior Class President Olivia Reilly welcomed the crowd to honor the latest class of "self-confident, life-long learners" who have "a shared history of knowledge, laughter, and tears and a future that awaits in seeking new ideas, friendships, and opportunities."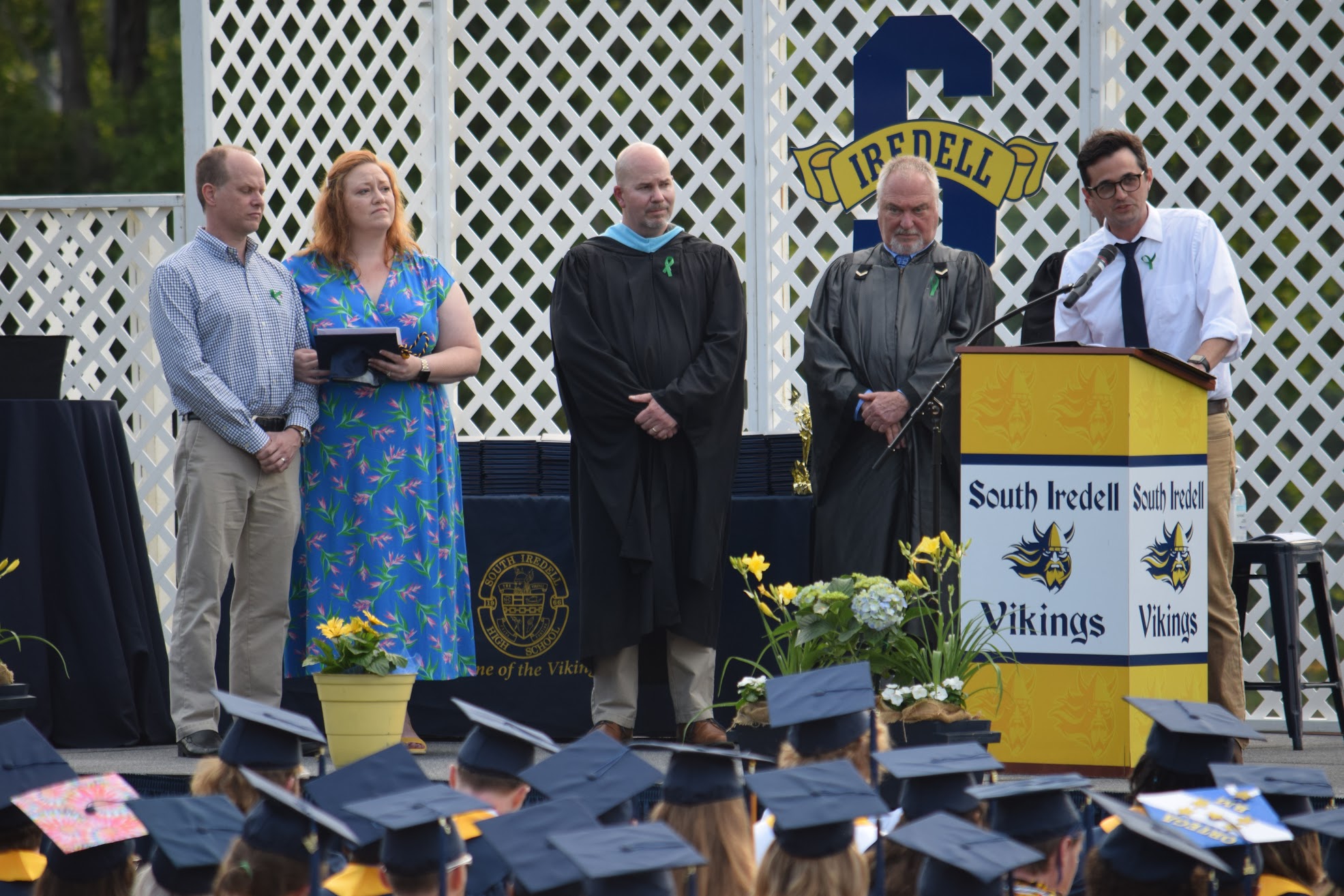 Reilly also explained the significance of the green ribbons graduates wore in memory of late classmate Houston Finlay, honoring the friendship, cherished memories, and ties that they shared with him.
Principal Tim Ivey spoke of his pride in this class and the honor and privilege of serving the graduates and their families during their high school years. "In each of you is the will and ability to make impactful resolutions to shape who you are and who you aspire to be," he said.
"Remember, graduating is not an end, but a beginning, and after a year of uncertainty and challenges, it is your gateway to a new chapter in your lives. I urge each of you to explore new adventures and live your lives with no regrets. Do not look with at sadness over what could have been or should have been. Move forward.
"This journey you are about to embark on will have many ups and downs," Ivey added. "It will take bravery, perseverance, fortitude, grace and honor to navigate it. You are ready. You are survivors, Class of 2021."
In her later graduation address, Reilly cited the story of "Where the Wild Things Are" as an analogy for the experiences of her classmates and herself as they moved through their school years.
"We tamed our wild things. We learned how to be balanced, principled, mature, and so much more," she said. "The wild things we experienced in high school prepared us for the rest of our lives."
Though they will face many uncertainties and challenges in the future, Reilly said that the graduates will "learn how to triumph over our wild things, just like King Max did. We will conquer the things we once thought we couldn't and learn our strengths and weaknesses.
"We have thousand of adventures in front of us, but we will always be part of the Viking Nation."
Special speaker and SIHS graduate Dr. Shalonda Davidson, owner of InStride Carolina Footcare Associates, congratulated graduates and explained what each letter of "Viking" meant, explaining that first they were "victorious" over a pandemic and in overcoming the challenges of 13 years of school.
She next explained the "impossible" was also possible with a solid foundation of family, friends, mentors, and faith. She also advised graduates to be "kind" by doing small acts of kindness that impact others' lives.
Davidson next said the graduates were "incredible" because they graduated from the best school in the county and that no one can stop them except themselves. "Always seek light, encourage yourself, and tell yourself each morning you are somebody."
"Goals" are also important, added Davidson, no matter their path after high school. Goals can be as simple as arriving to work on time, drinking water, or exercising to making the dean's list or going on to graduate school.
Whatever the goal, "just give 100 percent in attaining them" and "don't be afraid of taking a risk to achieve your goal," Davidson advised.
"Without risk, there is no reward," Davidson added. "Go be great, and leave your footprint on the world."
After Mason McNeely sang the graduation song, "For Forever," the MJROTC Memorial Guard laid flowers in remembrance of Houston Finlay. Houston's parents then walked to the stage to receive his diploma.
Speaking for the family, Houston's youth pastor Mark Collins of Western Avenue Baptist Church thanked the community for the love, support, and sharing of memories with Houston's family over the past months.
"You never know the value of a moment until it becomes a memory. In every moment you shared here with classmates is something to be treasured. Every little moment matters. Don't take anything for granted. It all matters."
To be ready to prevent such tragic loss in the future, Collins urged students and attendees to connect with others and be prepared to help themselves or friends who might be suicidal by putting the National Suicide Prevention Hotline phone number (1-800-273-8255) in their phones.
"In the coming year, 10 million Americans will contemplate suicide. Today I challenge you all to become a force for life in this culture of suicide."
He urged them to talk to friends, show them that they are loved in the broken world in which they live, and give them hope.
After the presentation of diplomas, Ivey urged the students to go out in the world to make a positive impact. After officially being declared graduates, the ecstatic youths tossed their caps and whooped with delight before filing out of the stadium to greet family and friends.
Photo Galleries (Scroll down for Gallery 2 & 3)