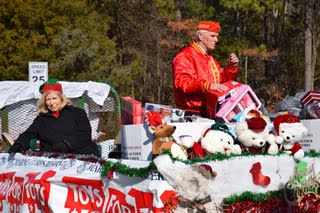 BY DEBBIE PAGE
debbiepage.iredellfreenews@gmail.com
After cancellations in 2020 due to COVID-19 restrictions, Troutman Parks and Recreation and area organizations are planning a number of festive events throughout the holiday season.
TREE LIGHTING CEREMONY
On Thursday, December 2, at 6 p.m., community members will gather at Troutman's Town Hall at 400 Eastway Drive for Christmas carols and music by area school students, hot chocolate and cookies provided by the Troutman Grange, and a visit from Santa for kids big and small at the annual Christmas Tree Lighting.
CHRISTMAS PARADE APPLICATIONS DUE NOVEMBER 26
Applications are also now being accepted to participate in Troutman's 5th Annual Christmas Parade on Saturday, December 4, at 11 a.m.
Spectators can view the parade along Old Murdock Road from CATS to Eastway Drive, then down Eastway ending at Troutman Baptist Church.
In lieu of an entry fee, the town is collecting new, unwrapped toys for the Marine Corps Toys for Tots program. They are in need of toys for all ages of children but usually have more difficulty getting toys for children 12 years and up.
A toy collection trailer will also travel behind Santa down the Eastway Drive parade route so that spectators can also donate as it comes by. Community members can also bring donations to Town Hall any time between now and December 4.
To get entrant information, go to the town website at https://tinyurl.com/3ab5bate or go by Town Hall to get an application to sign up.
Please return all applications by November 26. They can be mailed to "Attn: Troutman Christmas Parade," P.O. Box 26, Troutman, NC 28116. They can also be delivered to Town Hall at 400 North Eastway Drive, or emailed to Director of Communications, Community Engagement & Employee Services Emily Watson at ewatson@troutmannc.gov.
Participants are reminded not to throw any objects, including candy, during the parade. If they have candy or other items to pass out, they may have from the group walking down the route, directly handing out the candy or items.
SOUTH IREDELL HIGH SCHOOL HOLIDAY BAZAAR
Also on December 4 is the South Iredell High School Holiday Bazaar, running from 9 a.m. to 3 p.m. in the school gym. Shop early for unique crafts, home and holiday decor, jewelry, apparel, and delicious treats.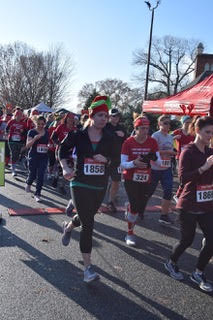 JINGLE RUN 5K
The Town of Troutman Jingle Run 5k on Sunday, December 5, is festive and family-friendly. The 3 p.m. run begins at Troutman Town Hall (400 N. Eastway Drive) and winds through the Town of Troutman.
Runners are asked to wear their merriest holiday apparel and to consider donating a new toy or personal care item for My Sister's House to support its guests' holiday season needs. Runners can bring items on race day for on-site collection.
The My Sister's House Christmas wishlist includes pajamas in all sizes for women and children, women's slippers, robes, scarves, mittens, toboggans, blankets, throws, and new unwrapped toys for all ages.
Ongoing needs include paper products (toilet paper, paper towels, facial tissues), cleaning supplies, over the counter cold & flu medication, shampoo & conditioner sets, bottled water, juice boxes, soda, dark-colored towels, washcloths, and dish towels.
This is an officially timed race by McLelland Racing Team (MRT). Register at https://runsignup.com/Race/NC/Troutman/JingleRunorWalk or in person at Town Hall. Registration is $10 per person, which includes a finisher's medal.
Those with questions can contact Parks and Recreation Director Smith at csmith@troutmannc.gov or by calling 704-528-7600.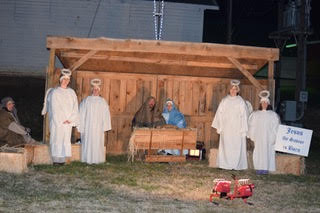 LIVE DRIVE-THRU NATIVITY CAST MEMBERS NEEDED
Folks also enjoy the Live Drive Thru Live Nativity, which portrays 26 scenes from Christ's life with live actors and animals and will operate on December 9-11 from 6 to 8 p.m. each night at the Iredell County Fairgrounds
Organizers are currently looking for 150 cast members to help with this dramatic presentation. If interested, go to https://www.signupgenius.com/go/10c0e4aa8ad2ca1f49-live for more information and to sign up.
Many roles are still open, and volunteers can choose to volunteer in a role on one, two or three nights.
The roles include some acting scenes and include walking, standing, and sitting opportunities. Children must be 5 years of age, and if parents are not with their children in a scene, they must ensure a responsible adult looks after them.
For more information on attending or being involved in the event, visit https://www.facebook.com/Troutman-Drive-Thru-Live-Nativity-1081136228606967/ or contact organizer Troutman Baptist Church at 704-528-5193 or troutmanbaptist@gmail.com for more information.
ROTARY CLUB "VIRTUAL BREAKFAST" FUNDRAISER
The Rotary Club of Troutman is also having its 13th Breakfast With Santa virtual event again this year due to COVID-19 concerns. Donations will benefit South Yadkin Baptist Toy Store, children at Pressley School, and My Sister's House.
The club members ask the community to help them spread some holiday cheer in these unprecedented times. Their goal is to sell 300 'virtual breakfasts" ($3,000 value) this year.
Donation options are $10 (adult breakfast cost), $5 (child cost), or $100 (event sponsorship).