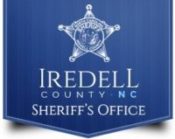 FROM STAFF REPORTS
A Winston-Salem man has been arrested and charged with breaking into a church in Iredell County and stealing mail and a Bible.
Iredell County Sheriff Darren Campbell annnounced the arrest of Jerry Lee Crews, 65, in a news release Tuesday afternoon.
On Monday, September 13, ICSO deputies were dispatched to 1273 Old Mountain Road for a report of breaking and entering at Providence Methodist Church, Campbell said..
When the responding deputies arrived, they found the church office door open. While searching the building for possible suspects, they saw numerous pieces of mail on floor near the church office.
While searching the surrounding area for a suspect, a deputy located Crews, Campbell said.
When asked why he was in the area, Crews made statements about the church, according to the news release. The deputy noticed mail and a Bible near the man, Campbell said.
The reporting party was brought to the church and confirmed the items found near Crews belonged to the church, according to the news release. All mail and the Bible were returned to the church.
Deputies arrested Crews on scene and transported him to the Iredell County Detention Center, where he was charged with felony breaking or entering a place of worship and felony larceny after breaking or entering.
Crews appeared before Magistrate Tutterrow, who issued a $5,000 secured bond on these charges.