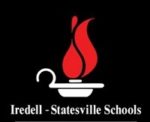 SEE RELATED ARTICLES: Troutman police investigating actions of unruly crowd at I-SS Board meeting; at least two people will face criminal charges AND Anti-mask protesters break glass window, disrupt I-SS board meeting
BY KARISSA MILLER
More than a dozen people who arrived early enough to get a seat inside the meeting room at Monday's Iredell-Statesville School Board of Education meeting addressed the board's mask mandate during the public comment period.
Some of the exchanges were heated and uncivil between those opposed to the mask mandate and those who favor it.
Blake Palmer, who has a child in I-SS, said the science shows masks are ineffective and called into question the need for the mandate.
"These (cloth) masks do not work. They do do a number of other things: they make it difficult to breathe. They cause headaches. They make it difficult to concentrate. They cause dehydration. They harbor bacteria, viruses, saliva, they cause skin rashes," Palmer said.
Palmer said that requiring 3,500 students to quarantine in the past two weeks and shutting down schools is harmful to children.
"What you're teaching our children is to live in a perpetual state of fear. Fear of each other. Fear of breathing the air, and the psychological harm it's causing is immense and probably irreversible," Palmer told the board.
He closed by urging the board to reverse the mask mandate as soon as possible.
Parent Kimberly Wasson, who has children and grandchildren in the system, backed the school board's directive to make masks mandatory for students and staff.
"I think the kids should wear a mask. I feel like the school system has a duty to protect the students and the staff. We lost a teacher assistant to Covid last week," Wasson said. (See Related Article HERE.)
She said that her daughter was nearly on a ventilator two weeks ago.
"She didn't die so she wasn't in the 99.8 percent of the people, but I don't want to see my daughter struggling to breathe," Wasson said.
Wasson thanked the board for doing their job and keeping kids in school.
Heather Woods Hunt said she has a child who is a first-grade repeater. He has an Individual Education Program plan. She told the board that the district needs to provide an alternative to sending home packets of worksheets for children who test positive for COVID-19 or who are quarantined due to close contact with someone else who has it.
"There needs to be a virtual option," Hunt said, explaining that I-SS children with special needs are not receiving the interventions that they need to be successful.
Quarantines are going to continue throughout the year, she said, so the district needs a long-term solution.
"I feel like there's a lack of education concern for the thousands of students who are not in school," Hunt said. "They are being forgotten."
She asked for options such as Seesaw virtual learning and ZOOM and asked for a dedicated teacher to help students who have to be out of school.
Other speakers told the board that they were frustrated that public attendance at the board meeting was capped due to social-distancing requirements. Some also complained that a majority of board members are not responding to emails about the mask debate.
Several board members have addressed the public in previous meetings to let them know that they have been inundated with emails and have not been able to respond to all of them.