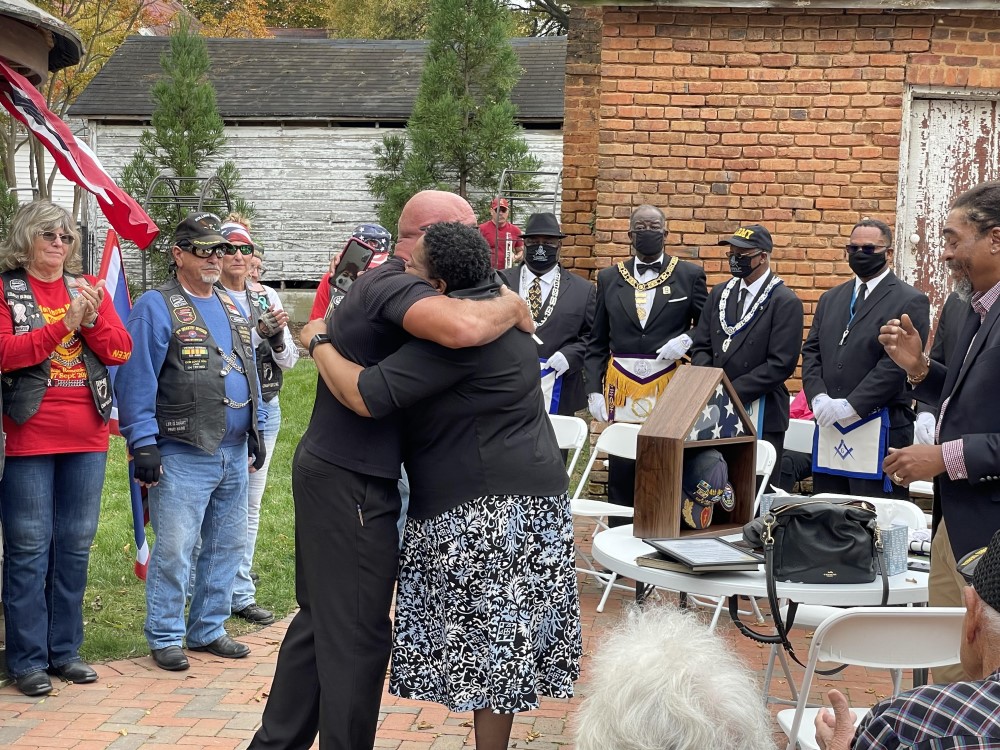 BY MIKE FUHRMAN
Carmen Towens and Bryon Turman have vivid childhood memories of their father, Freckless "Freck" Gibbs Jr., showing them his medals, mementos and a book highlighting his service in the U.S. Army during the Korean War.
Gibbs, who passed away in 2009 at the age of 78, served in the recon/demo and seek and destroy teams of the 3rd Battalion, 24th Infantry. For his service he was awarded the Silver Star, Bronze Star, Purple Heart and Presidential Unit Citation, among other medals.
When Carmen and Bryon's brother, Anthony "Pee Wee" Turman Jr., passed away in July of 2019, it set off a chain of events that resulted in their father's memorabilia being lost. Those heirlooms changed hands several times, were auctioned off and eventually ended up in an attic on South Mulberry Street before being turned over to Precious Medals founders Kim and Roger Siegrist.
On Thursday afternoon, thanks to the efforts of the Siegrists, Gibbs' children were reunited with their father's service medals, along with photos, a prized hat and other possessions. Local veterans, the Rolling Thunder motorcycle club, representatives of Mount Carmel Lodge #37 and members of the Statesville High School JROTC participated in the ceremony.
City Councilman Frederick Foster, whose father also served in the Korean War and was Gibbs' best friend, was honored to present a rare book that chronicled the two friends' service during "the Forgotten War" to Carmen and Bryon. The book recounts how Gibbs single handedly took out a would-be sniper, saving the lives of other men in his unit.
"They were true heroes and true patriots," Foster said.
Kim Siegrist told the small crowd that Gibbs battled post-traumatic stress disorder after returning home from Korea as a result of his combat experiences and had helped other veterans who struggled with PTSD.
"To walk through darkness and help others is an amazing thing," she said. "What they have seen changes them forever."
Gibbs' daughter became emotional at times throughout the ceremony. Before driving to Statesville from her home in Greensboro, she did not know the extent of the ceremony.
"It was definitely a surprise, a wonderful surprise," Towens said afterward. "It brought back a lot of memories."
Turman called the ceremony "absolutely phenomenal" and said his father would have thoroughly enjoyed being the center of all the attention.
"He certainly would have been the life of the party. He was very proud of his service," he said. "To know that somebody recognized his efforts … if my father was here to see this, he would have been ecstatic, overjoyed."
ABOUT PRECIOUS MEDALS
Precious Medals is a nonprofit organization devoted to preserving the legacy of Militar y veterans and raising awareness and funding for PTSD services for veterans, active-duty personnel and their families. Learm more at https://www.facebook.com/HerosPreciousMedals
Video
Photo Gallery