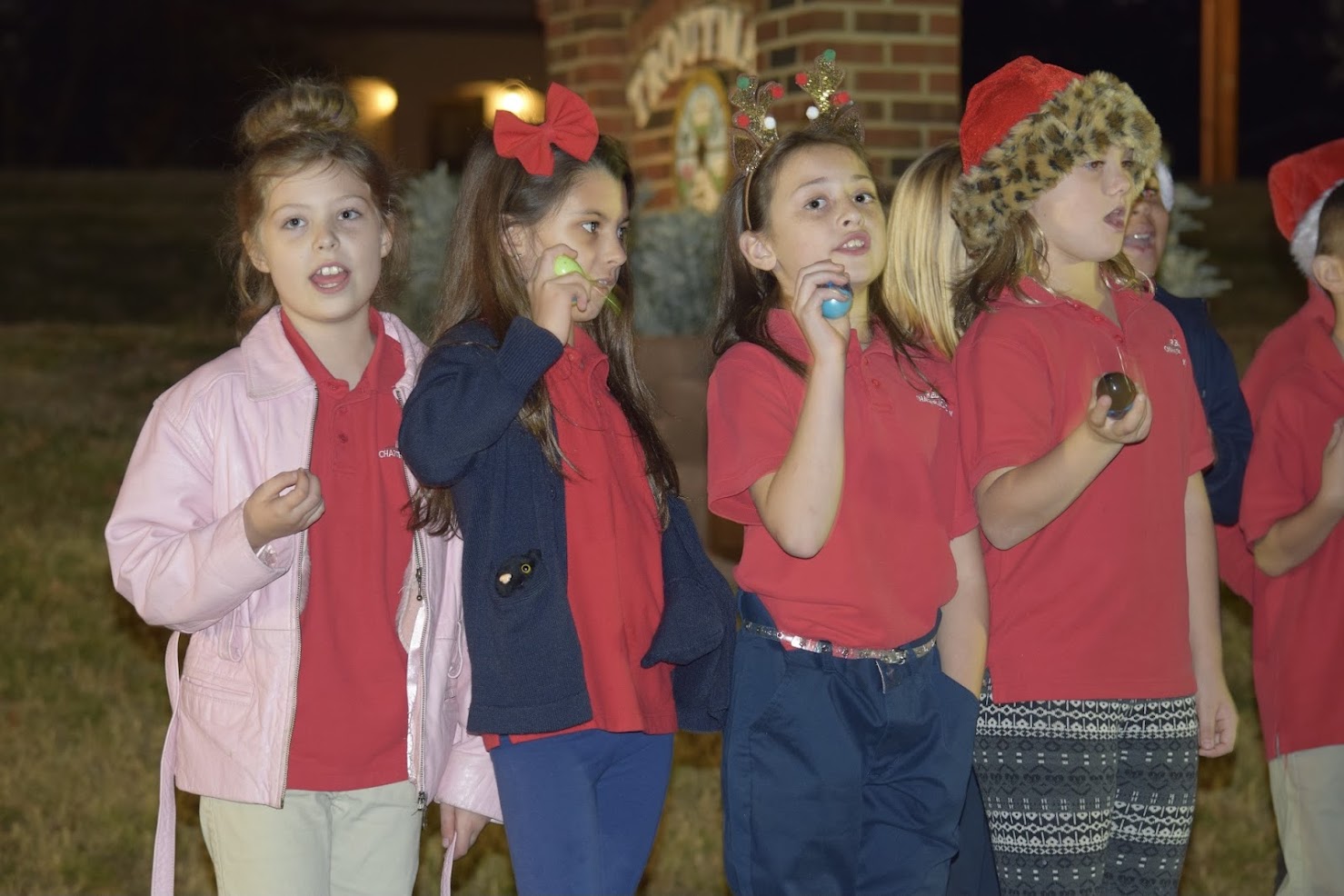 BY DEBBIE PAGE
debbiepage.iredellfreenews@gmail.com
Throngs of revelers happily gathered at Troutman Town Hall on Thursday night to officially begin the Christmas season with special musical performances, sweet treats, and special visitors from the North Pole.
Iredell Charter School third-grade students, led by Wendy Ventresca, opened the festivities with holiday songs, complete with dancing, shakers, and special choreography. They also played two instrumental "drum" songs using buckets and sticks.
Prior to the tree lighting, Town Manager Ron Wyatt thanked all the volunteers, Troutman Baptist Church, First Baptist Church, and the Overcash family for their support of the event. He also thanked Tony's Tacos and A Little Taste of Chicago food trucks for providing food options for hungry attendees.
Mayor Pro Tem Paul Henkel also welcomed the crowd and led a prayer for a happy holiday season and prayer for a good new year ahead for all.
After the countdown, the huge tree, located on the corner of the Town Hall property, lit up to the cheers of the crowd. Suddenly, blue lights and sirens drew the crowd's attention as a police car delivered Santa, Mrs. Claus, and two elf assistants to visit with all the girls and boys of all ages.
Troutman Elementary School fifth-graders then took the stage, led by Sarah Mansfield, playing some holiday songs on their bucket drums to the delight of the crowd. Volunteers from the Grange also handed out cookies and hot chocolate to enjoy as folks celebrated.
COMING UP THIS WEEKEND
Other holiday festivities this weekend include the Troutman Christmas Parade on Saturday at 11 a.m. The route heads down Old Murdock Road from CATS and then turns right onto Eastway Drive down to Troutman Baptist Church.
Parade participants and spectators are asked to bring unwrapped new toys to donate to the Toys for Tots program. Santa's elves will have a trailer in the parade to collect donations.
The South Iredell High School Holiday bazaar will also be operating in the gym from 9 a.m. to 3:00 p.m. This event is a great opportunity to shop for unique gifts such as crafts, home and holiday decor, jewelry, apparel, and delicious treats.
Coming up on Sunday at 3 p.m. is the Town of Troutman Jingle Run 5K, a festive and family-friendly event. The run begins at Troutman Town Hall (400 N. Eastway Drive) and winds through the Troutman.
Runners are asked to wear their merriest holiday apparel and to consider donating a new toy or personal care item for My Sister's House to support its guests' holiday season needs. Runners can bring items on race day for on-site collection.
The My Sister's House Christmas wishlist includes pajamas in all sizes for women and children, women's slippers, robes, scarves, mittens, toboggans, blankets, throws, and new unwrapped toys for all ages.
Ongoing needs include paper products (toilet paper, paper towels, facial tissues), cleaning supplies, over the counter cold & flu medication, shampoo & conditioner sets, bottled water, juice boxes, soda, dark-colored towels, washcloths, and dish towels.
This is an officially timed race by McLelland Racing Team (MRT).
Register at https://runsignup.com/Race/NC/Troutman/JingleRunorWalk or in person at Town Hall. Registration is $10 per person, which includes a finisher's medal.
Those with questions can contact Parks and Recreation Director Chip Smith at csmith@troutmannc.gov or by calling 704-528-7600.
Photos