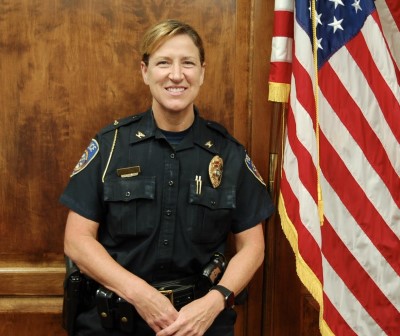 FROM STAFF REPORTS
Troutman Police Chief Tina Fleming resigned on Wednesday, along with Officer Darin Bumgarner, Mayor Teross Young confirmed Wednesday night.
Iredell Firewire broke the news of the chief's resignation on Facebook late Wednesday afternoon, reporting that Fleming stepped down due to "irreconcilable differences" with Town Manager Ron Wyatt.
Fleming could not be reached for comment.
Wyatt said that he had not been informed that the reason cited by Iredell Firewire for Fleming's resignation was accurate.
Town residents can rest assured that there will not be a lapse in police protection, Wyatt said. The TPD has 18 other full- and part-time officers and detectives, he said.
The department does not have a morale problem, Wyatt said.
"Any time that one of your supervisors or boss is gone, there is some confusion and some uncertainty," the town manager explained. "At the same time, there was a couple officers that also said they were kind of expecting this long before now."
Fleming took over the position on October 14, 2019, after an extensive search to replace Matthew Selves, who left to take a position with the N.C. League of Municipalities. Fleming had previously served as director of the law enforcement training program at Mitchell Community College.
The mayor, who was involved in the process that led to Fleming's hiring, declined to comment on the reasons for her resignation, citing the town's personnel policy.
Fleming "was the right leader for the right time for the town," said Young. "I regret that she resigned, and I wish her the best. I think she'll do fine" in the future.
The chief was well-connected in the community, having served for 17 years as a part-time TPD officer before being hired to lead the department.
"She knew a lot of folks and has a lot of great connections. Her ability to build relationships will continue to allow her to lead in the law enforcement community," Young said.
After Iredell Firewire broke the news of the chief's abrupt resignation, more than 200 people posted comments on Facebook.
"Chief Fleming is an awesome officer and person," one woman wrote. "She is always looking to protect and serve. I am sorry to hear this news."
"Tina is a fantastic police officer that I have had the pleasure of knowing for close to 30 years. Definitely a problem with the town, not her," another person wrote.
Others criticized the town for not issuing a press release explaining the reason for her resignation.
Wyatt said Wednesday that the town would likely issue a press release on Thursday after he had consulted with the town council.