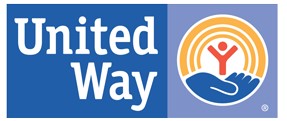 Special to Iredell Free News
On March 14, 2020, the United Way of Iredell County partnered with the Foundation for the Carolinas and the United Way of Central Carolinas to launch the Iredell County COVID-19 Response Fund. Since that time, as a result of the community's generous support, our United Way has been able to provide over $1.5 million to local organizations helping to meet the basic needs of families and individuals in crisis.
"This is a community that steps up to help our friends and neighbors during a time of need," said Paul Cook, president of the United Way Board, "Because of that support our United Way has been in position to provide more in grants than in any other 12-month period in our 67 years of work. These grants have allowed our agency partners to provide support over 110,000 times, whether the need was for a hot meal, help keeping the heat on, a safe space for children on remote school days, or any of the other basic necessities United Way helps to provide."
The individuals and companies that have made this possible are far too numerous to list, but the United Way of Iredell sends out a special thank you to its top five supporters, who have accounted for almost half of this impact: Lowe's Home Improvement, CARES Act funds provided by the Iredell County Government and the City of Statesville, and the employees of Iredell Health System and the Iredell-Statesville School system.
A final push for the COVID-19 Education Fund and 2020 Annual Campaign
While the number of infections and hospitalizations due to COVID-19 are on the decline, the work of recovering from the economic and educational impacts of this virus are still very much in process. As federal funding continues to help with ongoing food and shelter needs, the United Way of Iredell County has targeted local funding in support of children and families for academic, social and childcare support.
United Way has raised 77 percent of its goal to fund supportive services for over 9,300 youth, but still has $54,783 to raise in order to fully meet the targets and set us up to continue our strong support into the next fiscal year. If you are able to donate towards this effort, please consider mailing your check to United Way at P.O. Box 1312, Statesville NC 28687, or making a gift online at https://bit.ly/ICchild.
So many different heroes have emerged over the last year. In recognition of the incredible efforts being made by healthcare workers, teachers, first responders, and so many others, the United Way of Iredell has the ability to make your gift in honor of someone whose work during this time has touched your heart. Share the name and address of your hero when you donate at the online link above, and the United Way will send them a card recognizing their service to the community.
Grants Awarded (Agencies receiving $20,000 or more)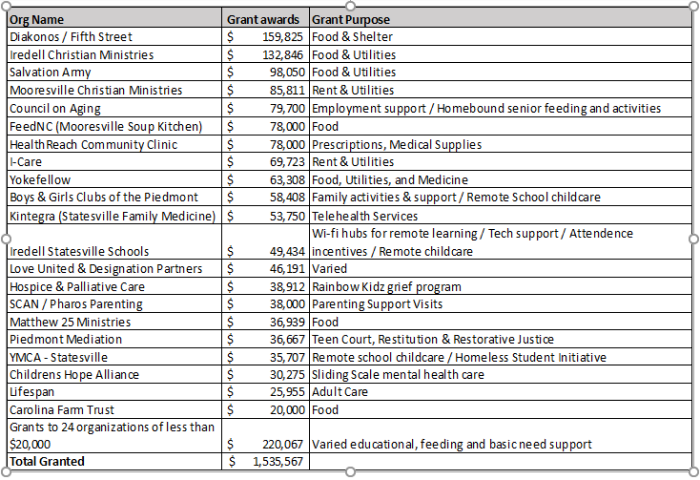 About United Way of Iredell County
United Way of Iredell County fights for the health, education and financial stability of every person in our community. We partner with 21 local non-profit partners through our annual campaign, and many other local groups and initiatives year-round to achieve this goal. More information is available at www.uwiredell.org.