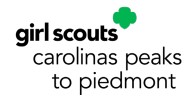 United Way of Iredell County Partner Agency Spotlight: Girl Scouts – Carolinas Peaks to Piedmont
ADDRESS: Hickory Service Center, 208 Union Square NW, Suite 101, Hickory, NC 28601
PHONE: 800-672-2148
EMAIL ADDRESS: info@girlscoutsp2p.org
WEBSITE: www.girlscoutsp2p.org
Executive Director: Jennifer Wilcox
Board Chair: Carolyn Brickey
Number of Employees: 56
Description of services provided: At Girl Scouts, we focus on community and sisterhood, on appreciating everyone's unique value, celebrating our differences, and on supporting one another through obstacles and conflict. Our program, the Girl Scout Leadership Experience, teaches girls about how best to develop and maintain healthy relationships and trusting friendships. The Girl Scout Leadership Experience consists of six age level curriculums for girls ages 5-17. Girl Scouting in particular impacts girls' abilities to step outside their comfort zones, manage healthy relationships, and be civically engaged in their communities.
Girl Scouts delivers five outcomes to girls through participation in the program. Girls develop a strong sense of self, develop positive values, learn to build healthy relationships, take on appropriate challenges for growth, and become community problem solvers. Through our key process concepts of Discover, Connect and Take Action, girls identify issues or challenges, learn more about the topic of their choice and work to find solutions for community problems. This process helps girls develop soft skills for success in academics and in life. Girls learn resilience, team work and how to manage challenges for success.
Girl Scouts uses four pillars of knowledge to serve as the curriculum for the Girl Scout Leadership Experience – Life Skills, STEM, Entrepreneurship and Outdoor Learning to help girls build skills and confidence to tackle issues and develop solutions. Girl Scouting happens in an all girl environment, is girl led with girls choosing their program activities, and is cooperative learning. Girls meet regularly in groups (troops) in neighborhood facilities such as churches, recreation centers or community buildings. All Girl Scouts use the Girl Scout Promise and Law as the basis for behavior choices. Under the guidance of positive adult roles models, girls learn to work with others, support others in learning and identify and solve problems. The Girl Scout curriculum provides a framework for learning in which girls choose their own activities and progress at their own pace.
Number of clients served in last year: 140 girls with the support of 57 volunteers in Iredell County (number is usually higher but decreased due to COVID-19 pandemic). Normally serve around 375 girls in Iredell County.
What is the best way for someone to contact your agency to access services? Phone 800-672-2148 or email info@girlscoutsp2p.org. Any girl from the ages of 5 to 17 who accepts the Girl Scout Promise and Law can join as a Girl Scout. Interested girls and adult volunteers must fill out an application at www.beagirlscout.org.
Describe role that volunteers play in your agency: As a volunteer, you'll introduce girls to new experiences that show them they're capable of more than they ever imagined. You'll be their cheerleader, guide, and mentor, helping them develop skills and confidence that will last a lifetime. Imagine the smiles, the excitement, the memories made—those are the moments you'll share at Girl Scouts.
There are many different ways to volunteer with Girl Scouts including short-term volunteer opportunities. Be the troop leader that supports her every week—the one that watches her smile get bigger as she grows more confident. Mentor a Girl Scout Cookie Professional during cookie season so she can earn enough to reach the goals she and her troop set. Or work with other adults to provide the kind of behind-the-scenes support that makes it possible for her to make amazing new memories at Girl Scouts.
Whether you can give a few hours, a few weeks, or a few months, volunteering with Girl Scouts is flexible and fun.
What is the best way for someone to get involved with your agency: Interested in volunteering with a troop? You can be a co-leader, treasurer, chaperone driver or help coordinate the cookie or fall product programs. Search for a troop in your area to volunteer by going to the following link: https://mygs.girlscouts.org/
Want to be a part of Girl Scouts Carolinas Peaks to Piedmont, but don't know how? Maybe being a short-term volunteer is for you! A short-term volunteer may help in a council shop, direct a series or event for girls, staff the reception desk, organize council events, work with outreach groups or serve on council committees. The opportunities are endless! Complete our volunteer interest form to start the process: https://girlscoutsp2p.wufoo.com/forms/r1c33vrx1b4aex8/
You may also contact us by phone (800-672-2148) or Email (info@girlscoutsp2p.org)
Budget for Current Fiscal Year: $6,838,644
United Way Funding for Current Fiscal Year: $3,550
MAJOR FUNDRAISERS
• January to March: Girl Scout Cookie Program begins. The Girl Scout Cookie Program prepares girls with the business smarts they need to take on the world!