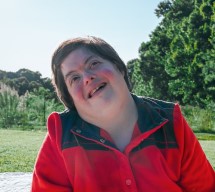 Katherine Rebecca "Becky" Waugh, 51, of Statesville, N.C., passed away November 14, 2021. Becky was the daughter of the late Jack F. Waugh and Katherine Moose Waugh. She was born October 11, 1970.
Becky attended AD Rutherford until she was 18 years old. She then began working at the Iredell Vocational Workshop in Troutman, N.C. She made clipboards for eighteen years. Her mother developed Alzheimer's disease and Becky moved to her sister Wanda's home and remained there until her death.
Becky was a member of First ARP Church, where she spent most of her childhood learning about Jesus. She could remember many Bible verses and took great joy in sharing them with others. She also attended First Baptist Church. Later in her life she began to worship at Beulah Baptist Church, which she loved dearly. Her wonderful friend, Cynthia Rovira, made sure she never missed Vacation Bible School. She had so much joy singing and praising Jesus.
Becky never met a stranger. She loved everyone with all her heart. She was an avid lover of all food and could not live without Diet Moutain Dew. She loved "The Waltons," "Mama's Family," singing along with "The Gaithers," Panther football, word searches, and traveling to great places like Las Vegas, Niagra Falls, Canada, and many beaches. She was the love of so many people's lives. She loved everyone and everyone loved her.
Becky was preceded in death by her infant brother, Jackie, and by her brother, Robert Daniel Waugh (Linda Tramble Waugh). She is survived by her brothers, Tim Waugh and Dale Waugh (Rhonda), and her sister, Wanda Waugh White.
She is also survived by her wonderful nephews and nieces whom she adored: Monica Waugh Williams, Matthew Waugh (April), Gretchen Guy (Bill), Bobbie Garland (Cody), Abigail Waugh, Benjamin Waugh (Kayla), Jacqueline Brady (Will), Nickie Saintsing (Mitch), and Courtney White (Michael).
Becky is also survived by her great nephews and nieces: Tyler Williams, Gavin Williams, Ava Waugh, Grace, Faith, and Gabriel Guy, Charlie and Rhett Garland, Brooks Brady, and Hayden Saintsing.
Funeral services will be held at 2 p.m. on Thursday, November 18, 2021, at First Baptist Church in Statesville. Becky will lie in state from 1 to 2 p.m. at the church. Burial will follow the funeral service in Oakwood Cemetery.
Our family would like to thank everyone who touched Becky's life over the years. We especially thank Dr. James Foushee for always loving Becky and making her feel so special. Our entire circle of family and friends have been so supportive to Becky over the years. Whatever Becky did that touched your life and made it better, we hope it will put a smile on your face every time you remember Becky's wonderful life.
We would like to thank all of our caregivers for their help during Becky's illness, including Craig, Melissa, Lynn Kunkle, Michelle Smith, Wanda Bennett, Annette and Dorothy. We would like to thank Van and Toadie Lackey for their devotion to our family. Becky loved you all.
Online condolences may be made to the family at www.troutmanfuneralhome.com.
Troutman Funeral Home is serving the family.