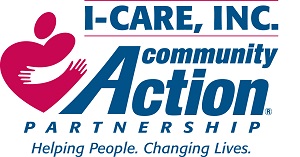 United Way of Iredell County Partner Agency Spotlight: I-CARE Inc.
ADDRESS: 1415 Shelton Avenue, Statesville, NC 28677
PHONE: 704-872-8141
EMAIL ADDRESS: bryan.duncan@icare-inc.org
WEBSITE: www.icare-inc.org
Executive Director: Bryan Duncan
Board Chair: Scotty Moore
Number of Employees: 65
Description of services: I-CARE offers opportunities for individuals and families to attain self-sufficiency through an array of federally-funded programs. Free childcare is available for 1-4 year olds through Head Start/Early Head Start; energy efficiency services that include HVAC repair/replacement are available through the Weatherization Assistance Program; and, tuition assistance and job placement assistance are available through the Community Services Block Grant B.O.S.S. program.
Number of clients served in the last year: 550
What is the best way for someone to contact your agency to access services? The best ways to contact us is by visiting our website at www.icare-inc.org or by calling 704-872-8141. Program applications are posted on our website. Eligibility for all programs is based on household income.
Describe the role that volunteers play in your agency: Volunteers are critical to our agency operations. They serve on our governing bodies, including our Board of Directors and Head Start/Early Head Start Policy Council. Also, volunteers help us with communications and help throughout the Head Start/Early Head Start centers reading to children and providing other needed support in the classrooms.
What is the best way for someone to get involved with your agency: To get involved at I-CARE, please call the main office at 704-872-8141 or send us a message through the website.
Budget for Current Fiscal Year: $ 4.8 million
United Way Funding for Current Fiscal Year: $9,556.84
MAJOR ANNUAL EVENTS
♦ The Big Pop Up – held April 1, 2021. Future date TBD.
MAJOR FUNDRAISERS
♦ Annual Meeting held in April of each year