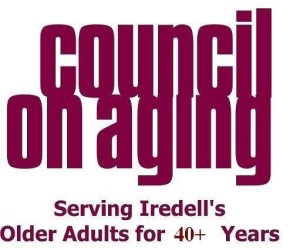 United Way of Iredell County Partner Agency Spotlight: Iredell Council on Aging
ADDRESS: 344 E. Front Street, Statesville
PHONE: 704 873 5171
EMAIL ADDRESS: arice@iredellcoa.org
WEBSITE: iredellcoa.org
Executive Director: Anna Rice
Board Chair: Ben Garrison
Number of Employees: 20
Description of services provided: Transportation, inhome services (light housekeeping – also known as chore services and respite – relief time for unpaid caregivers), nutrition services – congregate and home delivered meals; job training for unsubsidized employment, and senior center activities, classes, and programs
What is the best way for someone to contact your agency to access services? Give the agency a call. Eligible clients must be at least 60 years of age and resident of Iredell. From there, each service has specific eligibility requirements – as in home delivered meals, for example, one must be unable to leave the house except for medical appointments.
What role do volunteers play in your agency: Volunteers service on senior center advisory councils, lead classes, complete taxes for AARP Tax Aide, aid Medicare beneficiaries during open enrollment for SHIIP (seniors health insurance info program), which is administered by the State of North Carolina, and deliver meals to homebound seniors in Mooresville, Statesville, and Harmony.
What is the best way for aomeone to get involved with your agency: Again, give the agency a call and we'll get the person to the correct program area for their particular interests and skills.
Budget for Current Fiscal Year: $ 1,648,000
United Way Funding for Current Fiscal Year: $45,000
MAJOR FUNDRAISERS
No major fundraisers scheduled due to ongoing pandemic concerns.