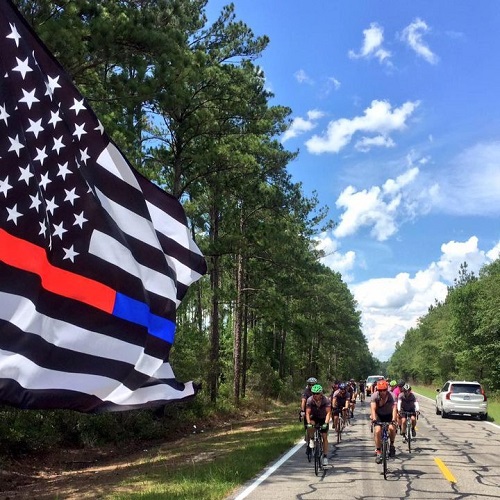 Special to Iredell Free News
The 2022 Carolina Brotherhood Memorial Ride will kick off on Monday, June 20, at 7 a.m. at 215 N. Main Street, Mooresville. Mooresville Police Department and Mooresville Fire-Rescue personnel will be escorting the riders to the Iredell/Rowan County line and on to their first stop in Concord.
Established in 2012, the Carolina Brotherhood Memorial Ride honors and remembers fallen public safety servants across North and South Carolina. Pedaling just over 600 miles this year, riders will honor and remember Carolina Public Safety Fallen (16 Firefighters, 29 Police Officers and 5 K9's) lost in the line of duty in 2019 and 2020.
The ride begins in Mooresville this year to honor MPD Officer Jordan Sheldon (end of watch May 4, 2019). Riders aim to meet with and support the families, friends, and co-worker left behind.
Sergeant Tim Taylor will represent Mooresville Police Department for this year's ride. Mooresville Fire-Rescue Battalion Chief Rob Colvert and MFR Firefighter Zach Fallon will be assisting with communications and logistics.
The Carolina Brotherhood Ride will have around 50 total participants this year—30 riders and 20 support staff. All riders are public safety personnel including law enforcement officers and firefighters from around North and South Carolina.
Ride Schedule
♦ Day 1 (June 20) – Mooresville, NC to Spring Lake, N.C. – 130 miles
♦ Day 2 (June 21) – Spring Lake, NC to Conway, S.C. – 110 miles
♦ Day 3 (June 22) – Conway, SC to Moncks Corner, S.C. – 101 miles
♦ Day 4 (June 23) – Moncks Corner, SC to Columbia, S.C. – 99.8 miles
♦ Day 5 (June 24) – Columbia, SC to Greenville, S.C. – 114 miles
♦ Day 6 (June 25) – Greenville, SC to Hendersonville, N.C. – 50 miles
About Carolina Brotherhood
The mission of the Carolina Brotherhood is to provide emotional and financial support for the families of those who lost their lives in the line of duty from the Carolinas. The organization builds awareness and appreciation of the sacrifice these extraordinary individuals have made, and seek to honor their memory.
This event began after Captain Jeff Bowen of the Asheville Fire Department died in the line of duty July 28, 2011. Following his death, a group of firefighter and police officers decided to cycle from Wilmington to Asheville to honor him. Since then, the ride has grown each year and focus on line of duty awareness, honoring those lost in the line of duty, and providing support as needed.