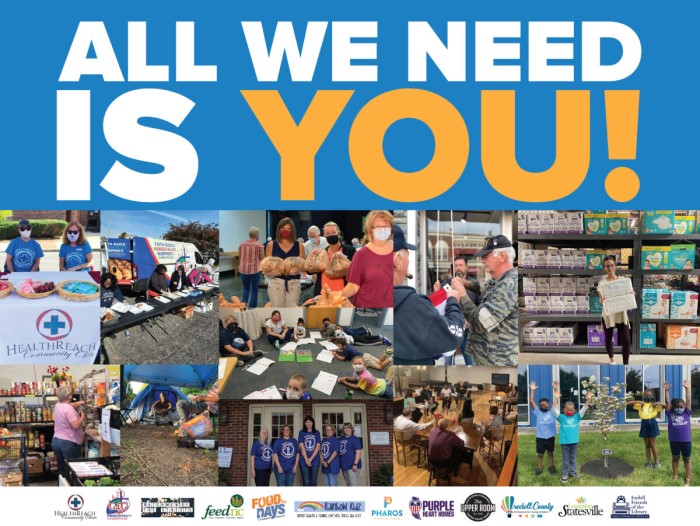 Special to Iredell Free News
The United Way of Iredell County has been working to spread the mission of 12 local agencies across the county through the 2022 Love United Iredell campaign.
In a news release, United Way officials expressed their appreciation for the support the campaign has received through donations, partnerships and sponsorships. Sunday, February 20, marks the last public outreach day of the Love United Iredell initiative for 2022.
Through Saturday afternoon nearly $14,000 had been donated to support the campaign.
Information about the campaign and participating nonprofits is available at www.LoveUnitedIredell.org.
"The past 14 days of public outreach wouldn't have been possible without our marketing sponsors allowing us a platform to share their mission," the United Way said. "We need to be sure to especially thank 92.9 & 550 WAME Real Country, Connect Iredell, Iredell Free News, Mooresville Tribune, Statesville Record & Landmark, and Z102.5FM Classic Rock."
Business sponsors have been equally important to the success of Love Iredell United. Business partners include Randy Marion Chevrolet and Randy Marion Ford-Lincoln; Greenbrier Grill; Banner Drug; Doosan Bobcat; Iredell County Economic Development Corporation; Iredell-Statesville Schools; Kindness Closet; Top of the Lake Rotary; and Statesville Distribution Services.
All of the businesses "stepped up to assist in different ways that will impact individuals' lives in this community in big ways!" United Way officials said.
Twelve local agencies participated in the 2022 Love Iredell United:
♦ FeedNC;
♦ Food For Days;
♦ G4G Ministries;
♦ HealthReach Community Clinic;
♦ Iredell County Friends of the Library;
♦ Iredell County Partnership for Young Children;
♦ Leadership Statesville;
♦ Pharos Parenting;
♦ Purple Heart Homes;
♦ Rainbow Kidz;
♦ Upper Room; and
♦ Watchmen of the Streets.
"There are a few projects which have not yet made their goal, which means that some projects may not be able to be as impactful in the lives of our neighbors," organizers said. "We encourage you, if you are able, to become a part of the team of individuals who step up and make these goals a reality!"
Visit www.LoveUnitedIredell.org to see what projects still need additional funding today. Checks can be mailed to United Way of Iredell County, P.O. Box 1312, Statesville, NC 28687 (Designate your LUI donation to an agency you choose).
"Although this initiative is coming to a close you may continue to donate to these organizations and become involved in their mission," organizers said. "We encourage you to continue volunteering your time and learning more about the numerous organizations that do great work within Iredell County. The United Way of Iredell County looks forward to continuing to expand our collaborative work with individuals, businesses, churches, clubs, nonprofits and government agencies to improve lives in Iredell County."