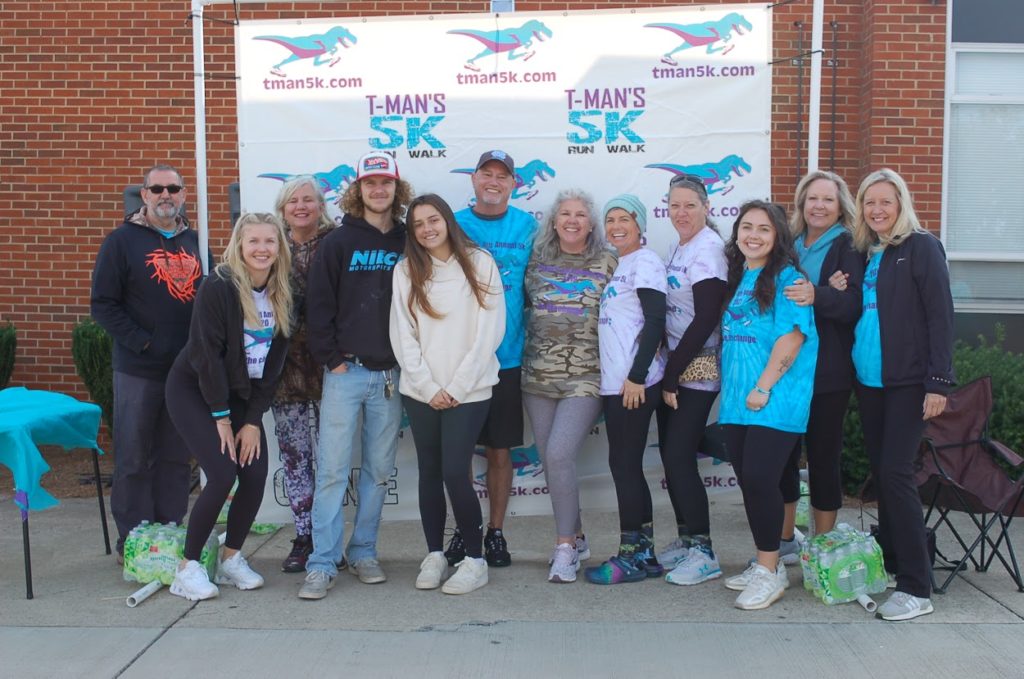 BY DEBBIE PAGE
debbiepage.iredellfreenews@gmail.com
Crystal Hobbs lost her 15-year-old son Tristan when he took his life in 2018. She has since dedicated her life to urging teens to talk about their problems and anxieties and helping them connect with mental health services if their problems were severe.
Hobbs said Tristan, a Mooresville High School sophomore, was good at masking and avoiding his feelings and gave no warning of his mental anguish to family or friends.
She learned that Tristan was the second Mooresville Graded School District student in four months to take his life and one of six youths in the county who took their lives in 2018.
"I realized we have a problem," she said.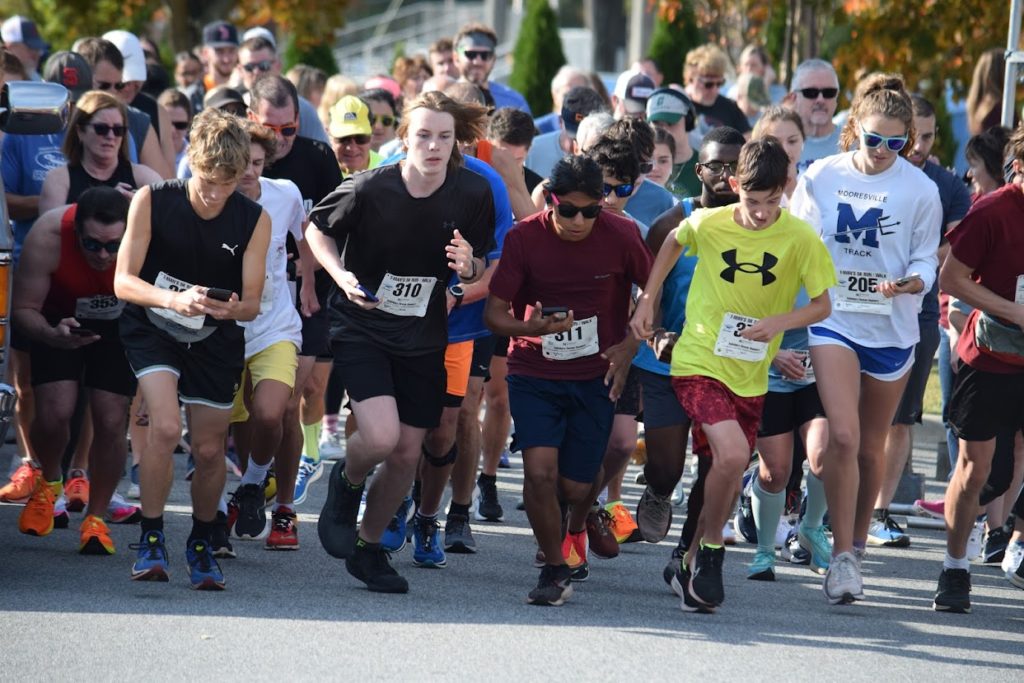 Hobbs started the T-Man 5K at MHS in 2018 to bring attention to mental heath and suicide prevention and to reduce the stigma around asking for help. The 5th annual race on Saturday featured 250 runners and walkers honoring Tristan's fearlessness, joy, and love for life and others.
Last year the race raised about $7,000 for the T-Man Foundation, a 501(c)(3) organization that helps cover transitional counseling and medication costs until recipients get ongoing program referrals and assistance through the National Alliance for Mental Illness (NAMI)-Lake Norman, of which Hobbs is president.
All funds raised, usually around $10,000 annually, stay in the community, assured Hobbs. Anyone who needs financial help or connection to resources can call Hobbs at 704-881-2084.
NAMI, the American Foundation for Suicide Prevention (AFSP), and Dell's Dachshunds for Depression from Cleveland were at the 5K to offer information and materials to attendees. The new "988" suicide prevention hotline offers 24/7 help and support for those contemplating taking their lives or needing help for someone else in crisis.
Hobbs said the mission for this year's event was "to raise awareness so that people who don't know how to ask for help know it's okay to ask for it."
"It's not a sign of weakness — it's very courageous to come forward and ask somebody for help. We all suffer from mental illness at some point. It just depends on how it affects us and how we recover."
Hobbs said mental illness "is a national health crisis, and 85 percent of those with mental illness self-medicate. Addiction and mental illness go together."
She also cited suicide rates among young people, noting it was the second leading cause of death for people ages 10-14 and 25-34 in 2020.
"We need to get them the resources and support that they need so that they feel heard and seen," she said.
Hobbs said that bullying often adds stress and anxiety for teens. Parents need to advocate for their children if they are bullied, try to de-escalate the situation, and insist bullies have consequences for their actions.
All parents need to impress upon their children that being kind to others is important. "It goes back to the Golden Rule and loving others like you want to be loved yourself."
"We could all be a little nicer, listen to each other, and be mindful of things," said Hobbs.
Youths were becoming more in tune with their friends in the wake of these suicides. "They want to help and save their friends. They don't want anything bad to happen to their friends, for their friends to die."
Hobbs advocates for getting mental health resources and tools in teens' hands to help both themselves and their peers. "They are the first gatekeepers."
She is getting certified to teach QPR (Question-Persuade-Refer) to youth soon because she believes the program will be a lifesaving tool for youths to intervene with their peers in crisis. She compared the lifesaving QPR method as CPR for those in a mental health crisis and suicidal ideation.
"You've got to act, to know what to say and how to say it if that situation would arise with someone you know."
"There is hope, and that is what today is all about," said Hobbs.
NAMI
NAMI-LN offers free classes and support groups to educate people about mental health, disorders, diagnosis, wellness, and recovery.
NAMI-LN has started a new Family Support Group on October 5 that met from 6:30 to 8:00 p.m. at the Mooresville Library Contact Hobbs (704-881-2044) or Mike Hoffman (843-245-6189) for details on future meetings.
Ongoing mental health groups in Huntersville include the Connections group for those with mental health diagnoses every third Monday of the month at Huntersville United Methodist Church (14005 Stumptown Road) from 6:30 to 8 p.m., with a Family Support group meeting at the same time.
No registration is necessary. "You just walk in as you are, where you are," said Hobbs, who described the groups as a safe place to talk and get help, resources, or access to medications.
For more information, visit https://www.nami.org/Find-Your-Local-NAMI/Affiliate/Program-Details-(1)?state=NC&local=0011Q000022G6yrQAC.
Photo Gallery