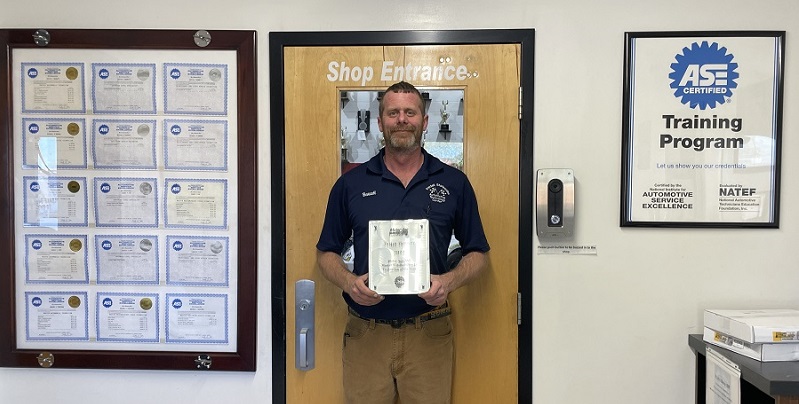 BY KARISSA MILLER
Career Academy and Technical School instructor Justin Bennett knows the importance of Automotive Service Excellence (ASE) certification in the automotive industry, and is working hard to make sure his students understand it.
Bennett was honored as the 2022 Motor Age/ASE Master Automobile + L1 Technician of the Year in San Diego, Calif., on November 17. He received a plaque at the Service Professional Awards banquet and an all-expense paid trip.
"This is a big deal. I'm proud of him and the positive attention he's bringing to our program. He's our superstar," CATS Principal Larry Rogers said.
ASE is celebrating its 50th year anniversary in 2022. ASE certifies individuals who have completed a training program and test to ensure that they know how to work on mechanical and other automotive systems.
The purpose is to protect vehicle owners and provide peace of mind when they take their car to a mechanic shop.
"You have to have experience along with education to obtain certification," he said.
Bennett has been an automotive service technology instructor at CATS for eight years, and he has been a teacher for 10 years. Prior to CATS, he taught at Forsyth Tech.
He is proud to be a product of Iredell-Statesville Schools and has worked around cars since he was a teenager. His former automotive teacher was outgoing school board member Martin Page.
As a student, Bennett wasn't a big fan of high school. He recalls liking his automotive class, but that was about it.
Knowing that some of his students feel the same way, he is able to recognize the signs of students who have put up walls and those who aren't trying their best.
Bennett finds it rewarding to mentor and teach students and help them learn about career options after high school.
"I never forget that I didn't like high school. I use that experience so I can teach them and so they can learn," he said.
Additionally, Bennett serves as the department chair for the automotive program at CATS. While he is modest about his own accomplishments, he said being chair is a major responsibility and admits that it has been a steep learning curve.
It comes down to two things, he said, curriculum and running the business side of things. Bennett said he strives to build relationships with students while also networking with community partners.
The trip to San Diego also afforded him opportunities to promote the CATS program and network with potential sponsors and vendors, he said.