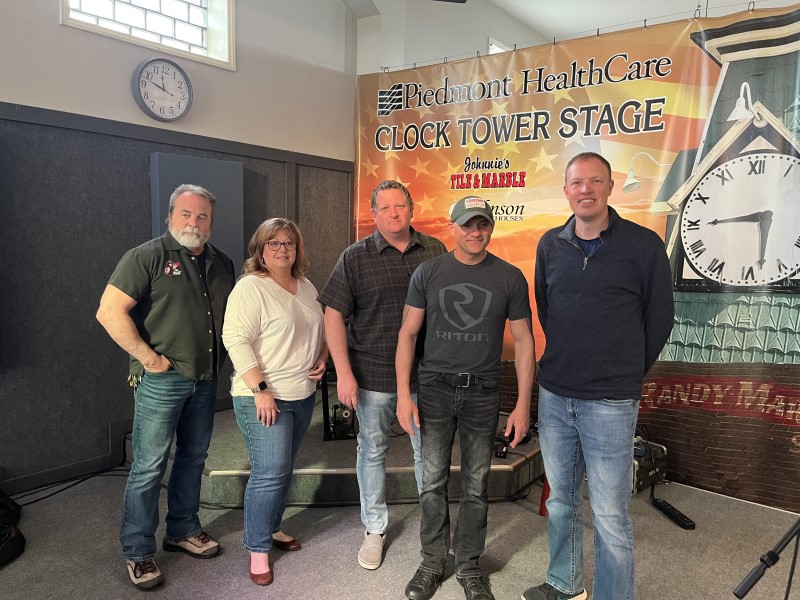 BY BRANDY TEMPLETON
For the past three weeks Tri-Rahn Pictures has been filming scenes for their new film, "A Knight to Remember," in Statesville and the surrounding area.
The Statesville Convention and Visitor's Bureau (SCVB) and WAME Radio helped promote the film through an on-air interview and invited local media to learn more about the film. The faith-based action-drama stars Erik Estrada, Joseph Gray, and Chad Ayers.
Writer Wayne Deloriea, director Scott McClannahan, and actor Ryan Weaver discussed the film. They were joined by Amy Rahn, owner of Tri-Rahn Pictures, and Keith Smith, unit production manager.
"We've been filming in Statesville for the past three weeks," McClannahan shared. "About 85 percent of the film is here in Statesville."
Scenes have been shot in Love Valley and a few other locations, with the majority taking place at Statesville Regional Airport.
Actor Ryan Weaver said he's happy to be on location and for the opportunity to take on his role.
"It was an enormous gift," Weaver said. "I get to work with seasoned, high-profile actors when I've never been in a film or acted before, while they've worked with the best of the best."
The Nashville resident was thrilled when told a week and a half before filming that he'd been selected for the lead role of David Knight, who is known as "Sheperd" in the movie.
A homeless, former Army Green Beret, he helps save a young girl from sex trafficking.
"He's a lot of me," shared Weaver, an Army veteran, who once flew Black Hawk helicopters.
Like his character, he has faced hardships and heartache.
"My character seems written for my backstory," he said. "It's a powerful message of sacrifice."
The main purpose of the movie is to honor all Vietnam veterans, raise awareness for veterans suffering from Post Traumatic Stress Disorder, shine a light on sex trafficking, and to honor Christ while doing so.
All Tri-Rahn's movies have a message and are family-friendly.
"There's no nudity, no cussing — it's a good, solid movie," McClannahan said. "You can make a good movie, even with violence, and have something in the middle that's family friendly."
Cast and crew are deeply religious and consider themselves family.
"Our faith is not just something we do on Sunday — we do it every day," Smith shared. "We pray every day on set."
They teared up as they spoke about their Christian founder, Bill Rahn, who died March 2.
"He was such an inspiration," McClannahan said. "We want to continue his legacy."
That legacy is one of seeing the best in people.
"He told people not to give up," Deloriea said. "You can make it happen."
That's just one of the reasons some of the actors were chosen for the film.
McClannahan, one producers and the director, shared what type of people are in the movie.
"Our thing is we look for talent," McClannahan said. "I think sometimes people limit themselves by only working with Christian actors or Christian crew. We certainly have a level of standards … we're not going to accept whatever, but we've actually been able to influence people who are non-Christian actors or non-Christian crew by becoming part of our family."
Forming a strong, cohesive group is a priority.
"The like-mindedness with a common mission, a common goal — for a lot of people acting and crew work it's just a job. For us, it's a mission," McClannahan said.
Deloriea also has a mission helping local talent get known.
"I want to bless our communities by using local talent," he said. "We are using about 10 percent of locals in our movie."
Also, the company has enjoyed partnering with Purple Heart Homes to reach other veterans. They hope that by even showing veterans their movie, they might touch a life or save someone with PTSD.
"We had one veteran be saved from overdosing just by watching our preview," Deloriea said.
Smith and the others encouraged others to help out even in small ways.
"There's many ways you can help someone out," he said. "The only way evil succeeds is for good men to do nothing."