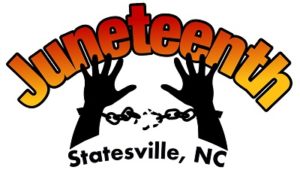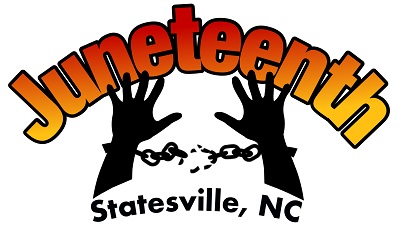 Event commemorates end of slavery with festival and family activities
Special to Iredell Free News
The 2022 Juneteenth Celebration Planning Committee is proud to announce a new location for this year's event.
Following the approval of the Statesville City Council on February 21, the 2022 Juneteenth Celebration will take place on West Broad Street between Meeting Street and Mulberry Street. Also, during the City Council meeting, the City of Statesville agreed to co-sponsor this year's event.
The Celebration Committee called this is "a monumental moment" in the history of the Juneteenth Celebration in the City of Statesville.
This year's Juneteenth Celebration will take place on Saturday, June 18, from 11 a.m. to 5 p.m.
The Celebration Committee is in the process of planning a follow up event on Sunday, June 19, to commemorate the actual date of Juneteenth. The details for the follow-up event will be releases once they are finalized.
The committee feels that it is extremely important to explain the location of this year's celebration.
"We would first like to be transparent and note that this decision was made in partnership between the Celebration Committee and the City of Statesville," the group said in a news release. "The Wes Broad Street location was ultimately chosen by the Celebration Committee to bring this noteworthy celebration into the very heart of the city. The importance of this day is something the committee feels should be experienced and celebrated by everyone who would like to attend."
Over the past couple of years, various groups have put on some amazing Juneteenth Celebrations throughout the City of Statesville. The 2022 Juneteenth Celebration Committee has brought these groups, specifically the Young Executives and the IMPACT-backed Juneteenth Community Committee, together to make the 2022 Juneteenth Celebration the best one that the city has seen so far. It takes all of us working together to put together a celebration that we can all be proud of.
The Celebration Committee is always looking for new talent and new members. If you are interested in being a part of something special — something worthy of the admiration of those who came before us, please make plans to attend a committee meeting.
The Juneteenth Celebration commemorates the date – June 19, 1865 – when the slaves in Galveston, Texas, first received word of the Emancipation Proclamation abolishing slavery, which was issued by President Abraham Lincoln on January 1, 1863. Today, Juneteenth celebrates African American freedom and achievement, while encouraging continuous self-development and respect for all cultures. On June 17, 2021, President Biden officially signed Legislation to make Juneteenth a Federal Holiday.
LEARN MORE
For more information, contact Adib El-Amin, Juneteenth Celebration Committee Chairman, at (704) 657-6609 or Preston Wasson, Juneteenth Celebration Committee Vice Chairman, at (980) 829-4563.