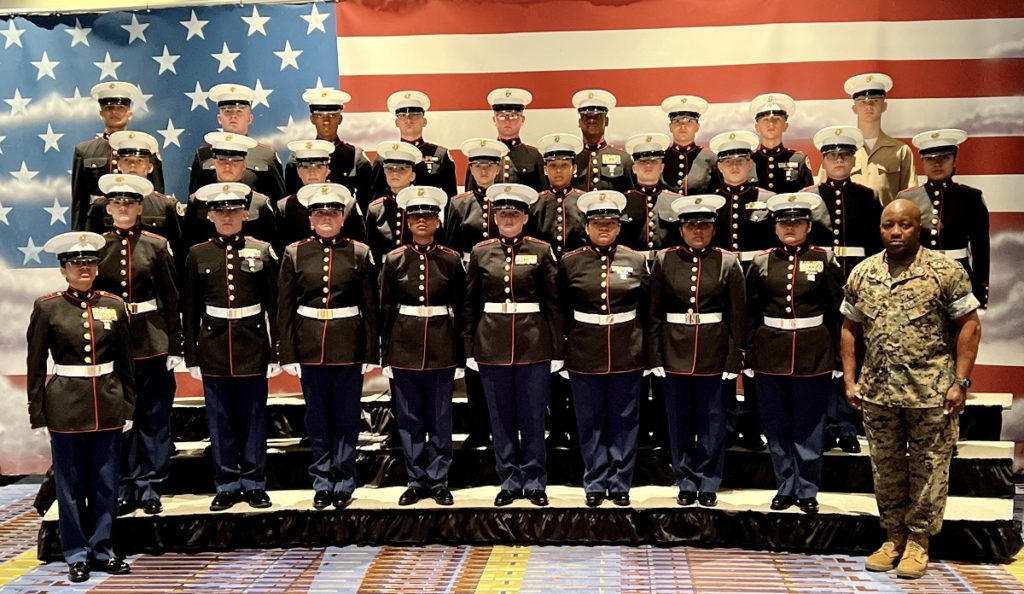 BY KARISSA MILLER
The South Iredell High School Marine Corps JROTC cadets placed second in their division and took home several awards at this year's national championship drill meet in Daytona, Fla.
The drill team was represented by the following students: Gavin Anzaldo, Daniel Atwood, Kelijah Bridges, Madelyn Buff, Logan Calhoun, Triston Carlson, Jadyn Dixon, Evelyn Flores, Samantha Harper, Jacqueline Hayden, Jaclyn Heaney, Jaimy Hidalgo, Katilin Huwe, Peyton Johnson, Maddox Jones, Landon Kaiser, Maria Mendoza, Terrance Mikell, Jackson Miller, Rubi Morales, Elias Paver, Chelsea Peck, Lizzy Santibanez, Thomas Sapp, Autumn Smith, Gabriel Thompson, Tyler Vanwormer and Abby Weddington.
South ROTC instructor and retired Marine MSgt. Michael Fisher said these 28 students are a great example of what leadership looks like. He is proud of all that they accomplished this season.
"They are a group of young men and women who want to make a difference and set an example to others," Fisher said. "I'm proud of their willingness to sacrifice their own personal goals for the sake of the team."
"They work together, they help each other, their dedication and commitment — not only to drill team, but to ROTC," he added.
In April the South Iredell High team competed against 12 of the top schools from the JROTC across the nation, including schools in New Mexico, Texas and up and down the East Coast.
The national drill meet consists of several competitions in four divisions: Color guard, saber, unarmed and armed.
In addition to a second-place overall finish, the South Iredell team won the following awards:
• No. 1 in Color Guard;
• No. 1 armed platoon in the nation;
• No. 4 in armed exhibition.
• No. 3 in unarmed platoon.
• Cadet Evelyn Caller was named the third best caller in the nation for unarmed platoon.
South Iredell's drill team won the national championship in 2018. The cadets also qualified for nationals in 2019, but the competition was canceled due to COVID-19.
The 2021-2022 drill team had several great showings at competitions, including:
• First place at the regional competition in Gray, Tenn.
• First place at Marine Corps League sponsored drill competition at West Iredell High School.
• First place at the regional competition against the top 10 schools in the region in Ft. Mills, S.C.
Participation requires a long-term commitment by the students, who practice from 6:15 to 7:50 a.m. on Monday through Thursday and occasionally on the weekends.
Fisher is in his 16th year at South Iredell High School. A 1983 graduate of Statesville High School, he served in the Marine Corps for 22 years.
He is already looking forward to next year.
"The good thing about this team is we're only losing three seniors from this runner-up team," he said. "I'm returning approximately 23 cadets from this runner-up team next year — with our sights set on competing at nationals and winning next year."
Photos