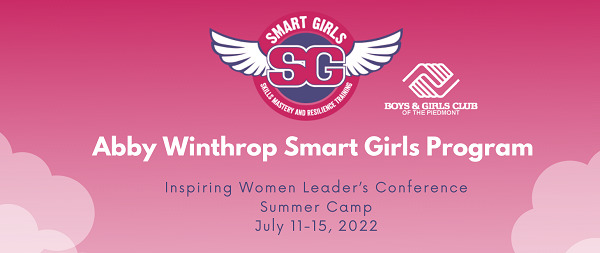 Special to Iredell Free News
Applications are now being accepted for the First Annual Abby Winthrop Smart Girls Inspiring Women Leaders Conference. This weeklong conference, scheduled for July 7-11 on the Statesville campus of Mitchell Community College, will focus on leadership.
Featured Speakers
Attendees will get to meet and hear from 10 local women who currently hold leadership roles in government, business, health care, education, and non-profit agencies. Presenters will share their personal journeys from grade school to college; from entry level first job to leadership of their organization. Each presenter will give attendees advice on pit falls to avoid in life's journey and their personal formula for success in life and career.
Speakers include:
♦ N.C. Sen. Vickie Sawyer
♦ Yvette Smith, Director of Iredell County Social Services, Iredell County
♦ Melissa Neader, Vice Chair of the Iredell County Board of Commissioners
♦ Nicki Mott, Senior Director of Member Experience at the Statesville Family YMCA
♦ Julia Wilson, Vice President of GL Wilson Construction Company
♦ Marlene Scott, Director of Community Engagement, Recruitment & Hiring for Iredell – Statesville Schools
♦ Shannon Viera, President & CEO of the Greater Statesville Chamber of Commerce
♦ Dr. Angel Dalton, Principal of West Iredell Middle School
Breakout Sessions
In addition, attendees may attend the following breakout sessions:
♦ Children's Hope Alliance: Good Health Includes Mental Health – How to Avoid Social and Emotional Stress in a Digital World
♦ Mitchell Community College: College Readiness – Are You Ready for the Rigor of College?
♦ Iredell – Statesville Schools: Non-Traditional STEM Careers Are Here Now
♦ TruthGirlz: Let You Conscious Be Your Guide
♦ Crosby Scholars: College Access – Yes, You Can Attend the School of Your Dreams
Additional Conference Info
Attendees will meet the Winthrop family and learn how they can enroll in this year-round program. Chaperons and parents are welcome to attend any session.
Breaks and lunch will be provided daily in Montgomery Student Union on Mitchell's Main Campus.
This event is open to any girl in grades in grades 7-12 from Iredell County. There is no cost for attendees, but transportation is not provided.
Attendees who successfully complete the conference will be invited to join the digital Big Sisters Leadership Group which will continue this leadership throughout the upcoming school year.
How to Sign Up
For more information or to enroll:
♦ See your school guidance counselor
♦ Visit www.piedmontbgc.org
♦ Contact Aletha Daye, Abby Winthrop SMART GIRLS Coordinator, at adaye@piedmontbgc.org or (704) 397-2429