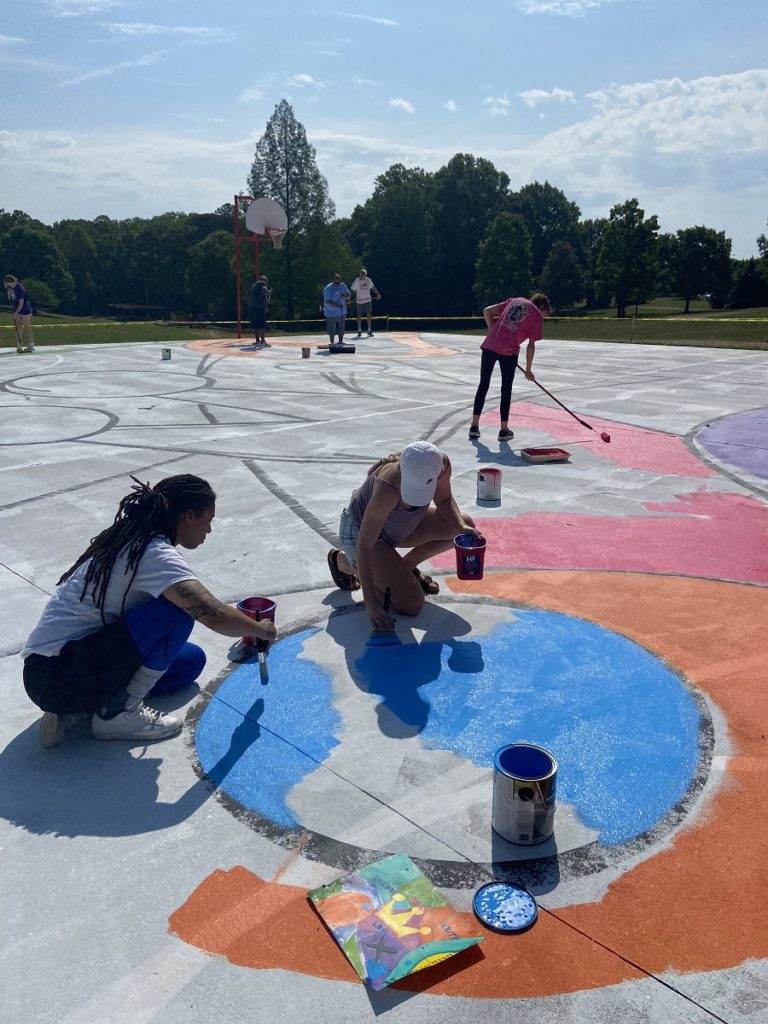 BY KAHLEAH S. GAITHER
DeNeer Davis understands the power of art.
She's experienced firsthand how it can help heal. On Saturday, she used her artistic talents to inspire others.
Along with a small group of community volunteers, Davis began painting a colorful mural on the basketball court at Statesville's Kimbrough Park.
A former college basketball player, she began focusing on visual arts after tearing a ligament in one of her knees while playing ball. After the injury she fell into a depression.
Art helped Davis recover.
She had been wanting to paint a basketball court for a long time, so when the Iredell Arts Council reached out to her about the Kimbrough Park project, she knew exactly what she wanted to paint.
"When I think about playing basketball, it makes me happy. When I think about art, it makes me happy," she explained. "So, when I think about putting the two together and people playing on the court, I just want them to have a good time."
Davis planned out the artwork, and the Iredell Arts Council invited the community to pitch in to help.
Statesville Mayor Costi Kutteh and his wife Teresa were among those who came to help Davis with the mural.
"It is not only just the painting of the court, but it is the message it says in the court. It is just the next step in our outreach to the community to make this park, all of our parks, and our entire community nicer and more appealing for our citizens and the people who come and visit us," said Kutteh.
The Statesville Branch NAACP is one of the co-sponsors of the project. Branch President Todd Scott believes strongly in the message Davis is trying to convey.
"Ms. DeNeer is covering three generations; Martin Luther King, people that are in their 50s, and the kids. I think it is going to be beautiful and God willing, it is going to be awesome for the kids," said Scott.
Davis said the painting should be finished on Tuesday, May 24, if the weather cooperates the next couple of days.
She hopes the finished project moves others.
"The impact that I am hoping to make outside of being positive and uplifting is that someone sees something they want to do and they get inspired to go out and do it. A lot of people have something inside of them but they just don't pull it out. So that is my biggest hope," said Davis.
This project is a collaboration by the City of Statesville Recreation and Parks Department, Iredell Arts Council, the Statesville NAACP Chapter, Reimprise Fund and the NC Arts Council Grass Roots Programs.
Photo Gallery