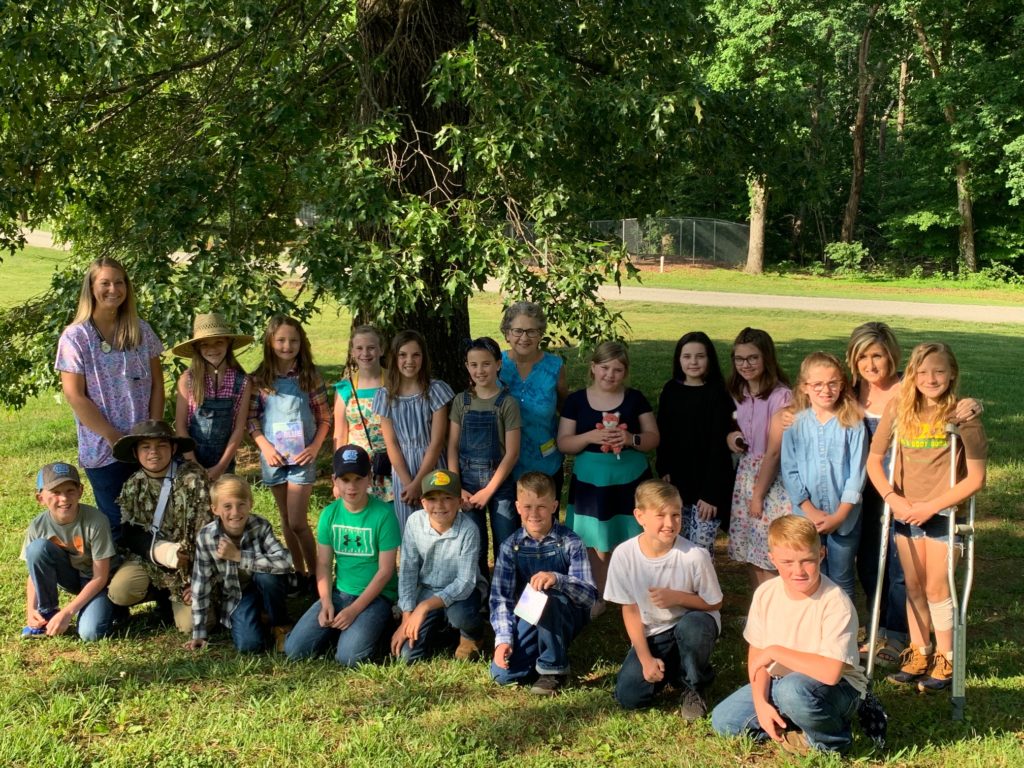 BY BRANDY TEMPLETON
During her visit to Central Elementary School this week, author Joyce Moyer Hostetter talked with student about her book and championed those with disabilities.
A native of nearby Hickory, Hostetter is a former elementary teacher and the author of "Blue" and four other books in the series.
"Blue" is a work of historical fiction set in Hickory in the summer of 1944. It captures the life of people during the polio epidemic.
Fourth-graders at Central just finished reading "Blue," and their teachers felt it beneficial for students to meet the woman who helped inspire their love for reading.
"They have absolutely loved this book," teacher Jennifer Loyd said. "Some are buying the whole series."
The fourth-grade teacher talked about some of the emotions she and her students felt while reading "Blue."
"We cried a few tears," Loyd said.
She and fellow teachers Lisa Hardig and Amelia Fox encouraged students to dress as their favorite "Blue" characters for the author's visit.
Hostetter helped students understand the seriousness of polio by comparing it to the coronavirus pandemic.
"Polio can turn your world upside down," she said. "Did Covid turn your world upside down?"
Poliomyelitis was an inflammation of gray matter in the spinal cord, she told the students. It mostly affected little children.
Hostetter shared photos of the Miracle of Hickory Hospital, which operated from July of 1944 through March of 1945.
"It was an emergency situation," Hostetter said. "It was crowded, not ideal, there was no privacy."
She made the dire situation real for students by showing black and white photos of patients and doctors, holding up items that were involved in patient care, showing clips from documentaries, and having students actively participate.
Hostetter had undergarments, a bedpan, and a mock iron lung to demonstrate patients' realities.
"Do these remind you of 'Blue?' " she asked.
Students eagerly raised their hands to point out similarities such as sick patients, nurses, and wheelchairs.
Hostetter referenced similarities between Covid patients and polio patients. She also demonstrated how polio affected neurons by having students move their arms, explaining that it changed normal functions and had different degrees of paralysis.
"Just as Covid affected some people, so did polio," she said. "Some got a heavy dose and some got it light."
Another correlation Hostetter made to Covid was showing how contact tracing was conducted in the forties.
"They listed people's names in the paper," she said. "That's how people knew back then if they had been exposed."
Hostetter also showed the fourth-graders how the iron lung worked by showing an old documentary and sharing her homemade model.
"Our diaphragms expand 17 times per minute as did the iron lung," she shared.
Students were intrigued watching a documentary about polio survivor Martha Mason talk while lying in her iron lung.
Mason, who was from Lattimore, N.C., filed the documentary while celebrating her 70th birthday. She survived for more than 60 years on her iron lung after contracting polio at her brother Gaston's funeral in 1948.
"It's such a normal thing that I don't think about," Mason said.
During her life in an iron lung, she earned degrees from Wake Forest University and Garner Webb University and wrote books.
"She was the first person in the U.S. to go to college with an iron lung," Hostetter said. "She heard her professors through a PA system and studied with friends."
She shared that positive change for disabled people followed.
"People with disabilities not only wanted to survive, they wanted to thrive. Polio brought about law changes to accommodate wheelchairs, crutches … we all need a fair shot at life."
Teacher Lisa Hardig appreciated Hostetter's message.
"She gets them excited about reading," she said. "They love it."
Hostetter loves inspiring children about history and plans to continue.
"History is in all of our backyards," she explained. "It's all around us. We all have stories to tell, and all of our stories are important."
Photo Gallery