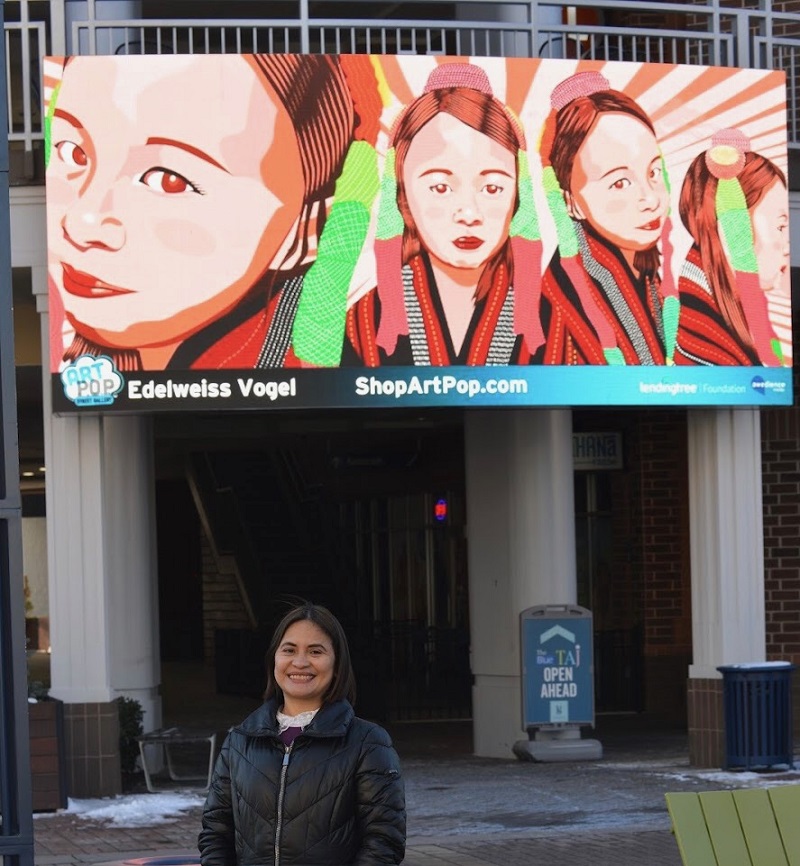 BY KARISSA MILLER
Edelweiss Vogel incorporates her heritage and culture into her art and aims to inspire students at The Brawley School, an International Baccalaureate World School, to do the same.
Vogel was selected for the ArtPop Street Gallery Class of 2022 Cities Programs. Her artwork will be featured on billboards across Charlotte and the surrounding region for one year. Vogel's solo billboard was installed on January 14 off Interstate 77 south of the Northlake Mall exit.
Her work is also featured inside Charlotte Douglas International Airport, CEN Media movie theaters, Awedience Media display at Ballantyne Village, Uptown Skybridge, South Park mall and Red Truck Media at Langtree Exit 31 off I-77. ArtPop will also add a few of her pieces to Google Arts and Culture.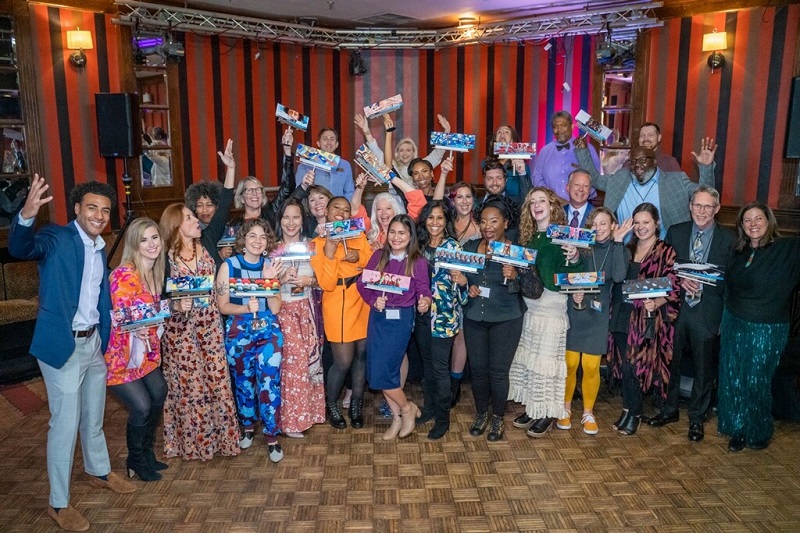 The title of Vogel's billboard piece is "T'nalak." It was created using vector and digital drawing.
After growing up in the Philippines and moving to the U.S. when she was 18, Vogel began teaching art at The Brawley School two years ago.
"I went back to school in 2018, and I actually graduated in 2020. Teaching is something that I really wanted to do. I'm very passionate about it and don't consider it work," she said.
Vogel earned a bachelor's degree in studio arts with a concentration in illustration along with a K-12 art education graduate certificate.
She has a cross-disciplinary background in painting, digital media, and contemporary/conceptual garment design.
Vogel's artwork highlights one of the native groups in the Philippines called T'boli, which is known for being the dream weavers.
"I wanted to celebrate the culture of T'boli by creating a portrait of a girl family member wearing a traditional Filipino dress and a headdress that I hand wove. I'm fascinated by their culture and wanted to share it with the community," she explained.
Vogel is thankful for ArtPop, which supports and serves as an outlet for local artists. Additionally, ArtPop was able to connect Vogel to a billboard company, Digital Out of Home, in the Philippines.
"Right now, I have some billboards in Manila. They are displaying my artwork," she said. "I'm very proud and happy because I left the Philippines when I was 18 and never got to display my art there." (Click HERE to see her billboards in the Philippines.)
Vogel is originally from Roxas District, Quezon City, which is not too far from Manila.
Spreading art throughout the community is important to Vogel, who tells her students that "art is community" — a value she hopes to instill in them as well.
She encourages students to participate in local art contests and helps them prepare their entries. The school will showcase a fine arts display February 28 – March 1. Last year, the showcase was virtual.
Vogel has a passion for teaching middle schoolers and likes watching them use their art to create their own unique dialogue.
"My students are wonderful. They are very inspiring. I learn so much from them, too," she said.
Art is a core class at the IB school, which means students take art for one year, and it's treated like English and science.
"In art, we talk about how art helps develop identity. It's communication, it's aesthetic, and identity. I always make sure that they always start with who they are. This way they will take ownership," Vogel said.
She has a favorite exercise that helps her students warm up to some of the bigger ideas and concepts that they will explore in her class.
"I have them write a poem called 'Where I am from.' I give them templates in which they tell important events that have happened, and I even encourage them to ask family members for answers if they are not sure," Vogel explained.
Students make self-portraits, participate in a personal mural project and do other art projects that incorporate their interests, hobbies and heritage into their artwork.
"We're very proud to have an accomplished professional artist as a teacher on our staff. As amazing as Mrs. Vogel is an artist, she's even more impressive as a visual art educator," said Principal Mark Shinkaruk.
Photo Gallery