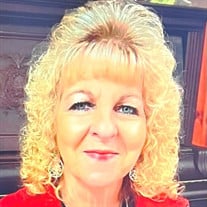 Mrs. Gloria "Teresa" Testerman Fraley, 65, of Harmony, N.C., passed away on Friday, January 21, 2022, at Davis Regional Medical Center in Statesville, N.C.
Teresa was born in Ashe County, N.C., on May 31, 1956, and was the daughter of the late Lydia and Clyde Sawyer Testerman. She attended Ashe and Iredell County schools before graduating from Wilkes County schools.
On December 7, 1973, Teresa married Michael "Mike" Fraley, and together they shared 48 years of marriage before her passing.
Teresa was a woman who loved the simple pleasures of life. She was a very pretty lady, and she always strived to look her best. Teresa enjoyed dancing, taking walks, and swinging on the front porch, which took her to a place of peace and deep thought. Mostly, she loved her family.
In addition to her husband, Teresa is survived by her only son, Michael Fraley Jr., along with one brother, Jerry Testerman (Marlene), and three sisters, Jewel Mullis, Mary Ferguson, and Margie Stanley.
Graveside funeral services honoring the life of Teresa Fraley will be conducted at 11 a.m. on Monday, January 24, 2022, in the Macedonia Methodist Church Cemetery. In lieu of flowers, memorials may be made to the charity of the donor's choice in honor of Teresa Fraley.
Nicholson Funeral Home has the honor of serving the family of Teresa Fraley.