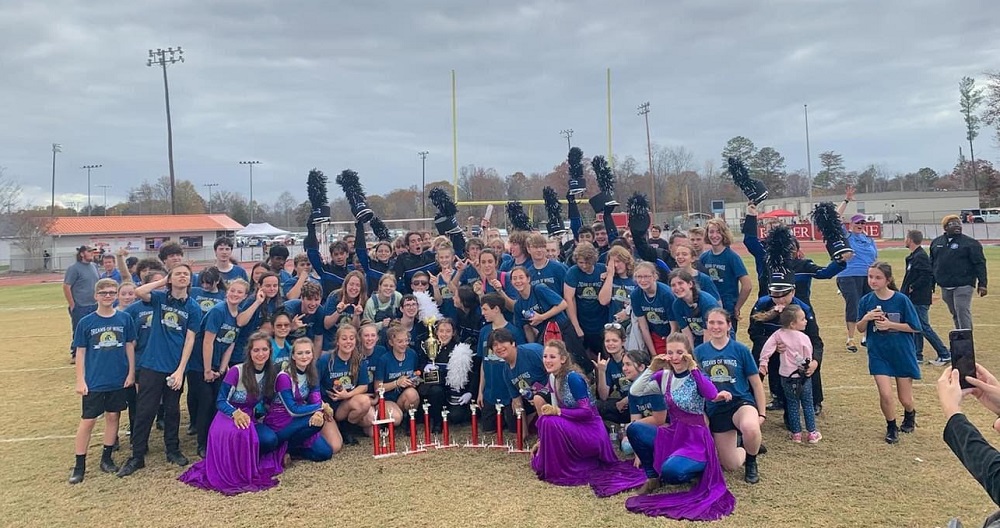 FROM STAFF REPORTS
The Lake Norman High School Wildcat Band recently captured first place overall in the Foothills Invitational Marching Band Competition.
The competition, held at North Iredell High School's Raider Ravine on November 5, featured performances from 16 high school bands from throughout the region.
A steady rain fell as the Wildcat Band took the field, but the Lake Norman musicians performed with precision to earn the top prize.
Band Director Chris Brown credited his students' focus as well as the leadership of his upperclassmen.
"They've missed two years of their music education due to Covid, but they made up for it in effort, and just doing what needed to be done," Brown explained. "My Seniors and Juniors are exceptional musicians. "They set expectations from a peer level and simply take care of business with regard to teaching their sections, coaching younger students, etc."
The students have put in "hours and hours and hours while a lot of other students are at home relaxing," Brown said. The result of that commitment, he said, has been an understanding of how to perform for an audience and the energy level required to achieve excellence.
Don't expect the Wildcats to rest on their laurels.
"We're extremely happy with their performance this season, but … we never allow ourselves to be completely satisfied," Brown said. "There is always room for improvement."
The dedicated musicians are already practicing for the Winter Concert, and the program is offering a Percussion Ensemble, Winter Guard, Jazz Band, and Rock Band.
This time next year the Wildcats will be finalizing preparations to perform in the London New Year's Day Parade.