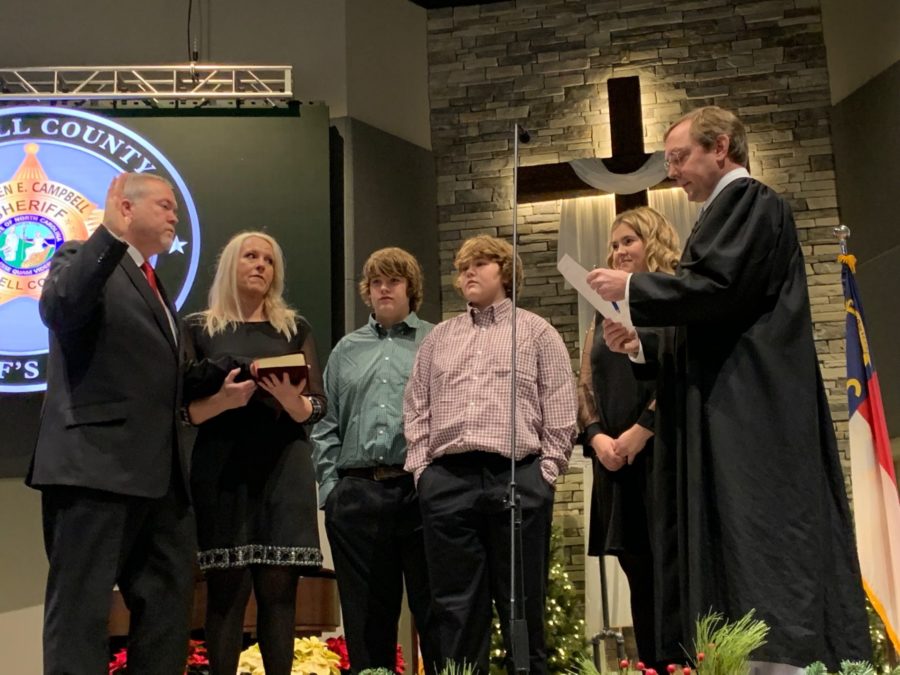 BY BRANDY TEMPLETON
Iredell County Sheriff Darren E. Campbell was sworn in for a third term in office on Monday morning at Beulah Baptist Church.
Senior Pastor Brian Burgess said he was honored to host Sheriff Campbell and his deputies for the swearing-in ceremony.
Superior Court Judge Joseph Crosswhite also spoke about the significance of the day.
"We are blessed from top to bottom with the leaders in Iredell County," Crosswhite said. "But none is better than Sheriff Campbell."
After Superior Court Judge Will Long administered the official oath, Campbell shared his thoughts.
"I'm deeply humbled to serve with the best deputies here and in the state," he said. "I know when I go to sleep that our problems are well handled."
Campbell, a Republican, was unopposed in the November 8 general election.
Since he's been in office, Campbell said, the county's crime rate is down 53 percent. He's established a lake patrol and staffed every school located in the unincorporated areas of the county with a school resource officer. Working with the Board of Commissioners, Campbell has also worked to increase pay for deputies.
Citing the challenges associated with the COVID-19 pandemic and negative attitudes towards law enforcement, Campbell said it is a "tough time" to work in the profession.
"2022 has been the most deadly year for law enforcement," he said.
However, Campbell stressed that Iredell County deputies are committed to doing their best to keep Iredell citizens safe, and he is committed to recruiting top-tier law enforcement officers.
"We work hard for citizens of the county," he said. "And we are blessed to have Iredell County to support us."