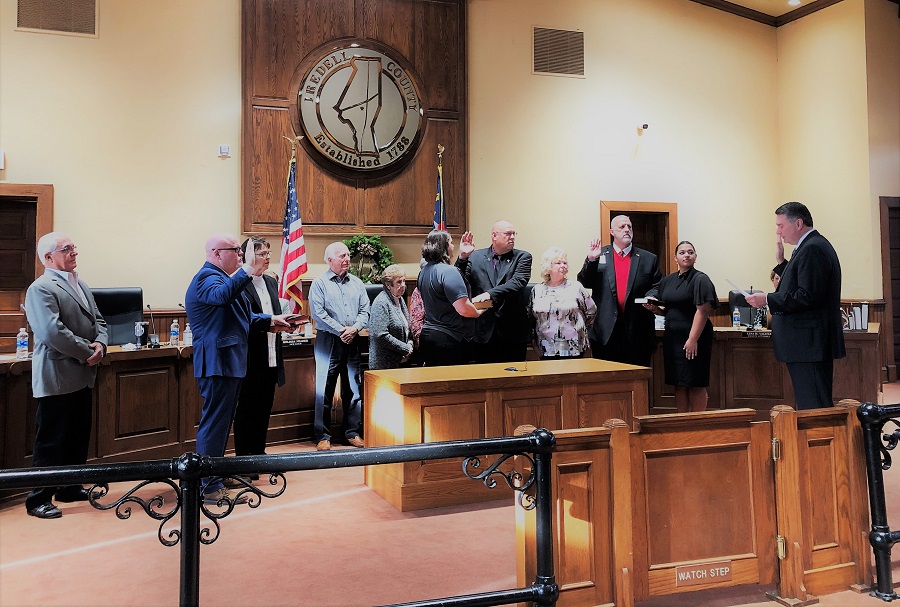 BY KARISSA MILLER
Republicans Bert Connolly, Gene Houpe and Brad Stroud were sworn in Monday as Iredell County commissioners during a ceremony at the Iredell County Government Center in Statesville.
Superior Court Judge Joseph Crosswhite administered the oath of office to Connolly and Stroud, who were elected to four-year terms in November, and Houpe, who won a two-year term.
The three commissioners promised to "faithfully and impartially" uphold city, state and federal laws and to execute the role of county commissioner to the best of their skill and ability.
Both Connolly and Stroud, who was appointed last month to complete the term of late Commissioner Marvin Norman, used family Bibles during the swearing-in ceremony.
Connolly placed his hand on the Bible that belonged to his grandparents, Flossie and James Mayberry. It made the occasion more special to use that family heirloom, he said.
A career law enforcement officer, Connolly pledged to serve all Iredell residents.
"It's about the people — it's not about politics. Regardless if you're Democrat or Republican or unaffiliated, it's all about the people. We have almost 200,000 people in this county and we have to start acting like we have that many people in this county," Connolly said.
"We don't work for ourselves, but we work for those people. We have uncontrolled growth in this county and citizens have expressed concerns. We have to look at all angles of things …I look forward to working with everyone over the next four years," he added.
Connolly was accompanied by his mom, Nancy Austin, and step dad, Larry Austin, as he took the oath.
Stroud, who held a Bible that his family gave to him when he was elected commissioner, thanked his family for their support.He was joined by his daughter, Tera Dufault; sisters Beverly Flinchum and Reida Allen; aunt Jean Swaim; and good friend John Douglas.
Stroud said that he has a lot of respect for outgoing Chairman James Mallory, and he wants to borrow an idea from the retired general.
"You don't know where you're going, until you know where you have been," said Stroud, who was the top vote-getter in the November election.
Stroud, a military veteran who retired as the county's Veterans Service officer in 2021, said that he wants to make sure that the board operates with "integrity, grace and dignity" while making "wise Godly decisions."
Houpe, who was accompanied by his daughter Madison for the swearing-in ceremony, said that it was an honor and privilege to represent the people of Iredell County. He thanked God and the voters who returned him to office.
"We always will try and keep the people as the focus and do what's right," Houpe said. "Before you judge our actions, I ask that you always ask us what are our options."
New chair and vice chair
After the swearing-in ceremony, Commissioner Melissa Neader was elected chair by the board, and Connolly was elected vice chairman.
Neader thanked Chairman Mallory for his tremendous leadership and praised his natural ability to give inspiring speeches.
The new chair said that they have a "very strong board" comprised of members from diverse backgrounds. The board will together, she said, and is dedicated to serving the people of Iredell County.
OTHER BUSINESS
In other matters, the board reappointed Lisa Valdez as county attorney and Amy Anderson as clerk to the board.
Photos