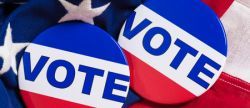 FROM STAFF REPORTS
Filing for local, state and federal elections resumed Thursday across the State of North Carolina after being delayed by a court case challenging new state and federal legislative redistricting. The filing period ends at 12 noon on Friday, March 4.
Seven local candidates filed on Thursday. Learn more about how to file HERE.
Here's a list of candidates who have filed so far in key races across Iredell County:
NC Senate
DISTRICT 37
REPUBLICAN
Vickie Sawyer
NC House
DISTRICT 084
REPUBLICAN
Jeffrey C. McNeely
DISTRICT 089
REPUBLICAN
Mitchell Smith Setzer
DISTRICT 095
REPUBLICAN
Grey Mills
NC District Court Judge
DISTRICT 22A
SEAT 01
REPUBLICAN
Carole A. Hicks
Iredell County Board of Commissioners (3 Seats)
DEMOCRAT
Michelle M. Goree
REPUBLICANS
Gene Houpe
Laketha Bobish
Larry Payne
Richard Coleman
Brad Stroud Sr.
Bert Connolly
Blake Palmer
Angela Wokatsch Matthews
Marvin Norman
Richard (Todd) Carver
Iredell County Clerk of Superior Court
REPUBLICANS
Jim Mixson
Barry D. Tilley
Iredell County Register of Deeds
REPUBLICANS
Maureen P. Purcell
Renee L. Holland
Iredell County Sheriff
REPUBLICAN
Darren E. Campbell
Iredell-Statesville Schools Board of Education
DISTRICT 01
REPUBLICANS
Ricky Driver
Brian Sloan
DISTRICT 03
REPUBLICAN
Abby Trent
DISTRICT 05
REPUBLICAN
Mike Kubiniec
DISTRICT 07
REPUBLICAN
Anita Kurn
Town of Mooresville
COMMISSIONER WARD 03
David Coble
James (Toodles) Ritchie
COMMISSIONER WARD 04
Lisa M. Qualls
City of Statesville
MAYOR
Joseph Glasgow
Beniah (Ben) McMiller
COUNCILMAN AT-LARGE
Mark Goldman
Christopher Spraggins
COUNCILMAN WARD 02
C. O. (Jap) Johnson
COUNCILMAN WARD 03
Doris A. Allison
Oliver Louis Wilder Jr.
COUNCILMAN WARD 05
Joe Hudson
John Staford