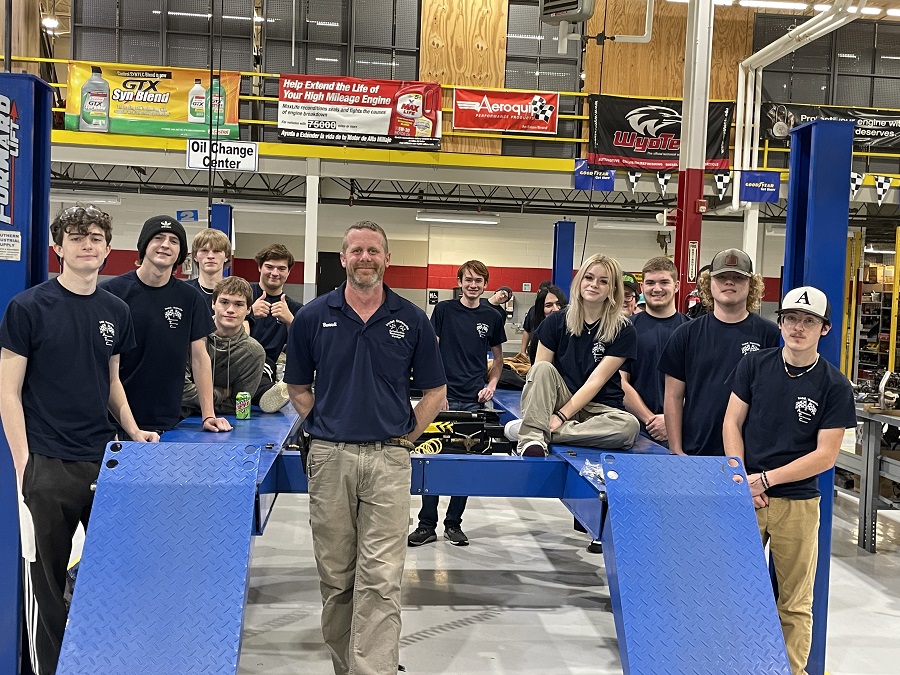 BY KARISSA MILLER
The Career Academy & Technical School's Automotive Department held its annual stakeholder's appreciation luncheon Thursday afternoon to show gratitude to the faculty and staff, local automotive/transportation sponsors and community leaders.
Automotive students and culinary students, along with their teachers and Principal Larry Rogers, welcomed hundreds of guests to the automotive shop for the first time since the pandemic.
Special guests included school board members, county commissioners, legislators, public safety employees and school administrators.
Department Chair Justin Bennett said the appreciation luncheon is a long-standing tradition, dating back to 2010.
"We're so thankful for our staff, community and service partners and local businesses. We couldn't do it without their support and they make it all about the students — that is why we are here," Bennet said.
Automotive companies in the community play an important role and are part of the big picture goals for many of their students.
"They help make our program successful because they are the ones who build the chain and link our students to opportunities and end up hiring our students," Bennett explained.
The auto tech program attracts students from all Iredell-Statesville high schools. Those in the program spend half their day doing hands-on learning in the areas of automotive repair, paint, diesel and other services areas.
The instructors are instrumental helping the students grow and earn industry credentials.
The program is certified by the National Automotive Technicians Education Foundation (NATEF) and the Automotive Youth Educational System (AYES).
The auto program instructors are: Justin Bennett, Shane Fox, Andy Cheveney, Michael Bowman and Gary Ramey.
Auto Tech Students
Lillyahna Nevarez, 16, moved from Nevada to Iredell County. She already feels at home and a part of the school community.
"I didn't have opportunities like this when I was in Las Vegas. It's like one big family and everyone here really cares," she said. "I really love cars and like being able to work with so much equipment."
Flor Rivera, 16, said that hands-on learning helps her understand the subject material being taught.
"I really like that they take a different approach to learning. We get to work together and do things with our hands. I feel like I've learned so much since I've been here. It's a great experience," she said.
Jake Chavis, 16, agrees.
"I don't think I'll go into a career, but I think it's fun to work with cars and can see maybe doing like a side job in the future," Chavis said.
Ivan Bowers, 17, is proud to be a part of the automotive program. He helped mop and clean the floors in preparation for the appreciation luncheon and was glad to see a strong turnout.
"I think it's important that we show our appreciation to the people around the county and the business. They do a lot for the shop," he said.
Photo Gallery