Council member takes current and past council members to task for treatment of city staff
BY STACIE LETT CAIN
The Statesville City Council on Monday night approved plans for up to 100 new housing units and a business expansion and annexation for a Southeast Statesville neighborhood.
Council members hope it is only the beginning of changes for that area.
"By approving this, I'm hoping we are adding rooftops, which is increasing tax value and offering incentive for new business to want to locate in this area," Council member Frederick Foster explained. "That's really a food desert in that area, and we could certainly use better access to restaurants and grocery stores for that area."
The development, located on Morland Drive, would connect a business/industrial area that houses Tilley Harley-Davidson, Waffle House and Enterprise Rent-A-Car, as well as two hotels, to Barkley Road.
The developer hopes that will be a good thing for that part of the city.
"It is a dark, isolated area over there, and we are hoping that this development will breathe some life in to it," True Homes representative Andrew McDonald told the council.
Dependable Development, the developer of this proposed area, anticipates adding both duplexes as well as townhomes either for sale or for rent. The current expectation will be 38 duplexes and 52 townhomes, as well as 1.3 acres of open space, which will include trails, benches and a play area. The entire development will be roughly 13 acres.
The City Council passed the first reading of the rezoning request for the project.
But that isn't the only change council voted on for that area.
Storage Sense, located at 1446 N. Barkley Road near the new housing being proposed by Dependable Development, applied to the council for voluntary annexation for a proposed expansion of their business, which would increase the value of their property from $162,000 to approximately $1.2 million, according to Planning Director Sherry Ashley. The council also passed that request unanimously.
New council member criticizes council for treatment of staff
The council meeting began with a few words from Council member Joe Hudson, who was recently elected to represent Ward 5, reflecting on an exchange between council and staff at a previous council meeting. He asked his fellow council members to consider changing how they deal with city staff.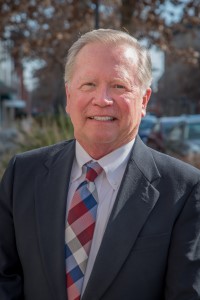 "Previous councils have left behind this attitude that the professional staff needs to be questioned about everything they do," he said. "If staff wants to buy paper clips, they have to run it through council first, and that is wrong. The citizens of this city did not elect us to micromanage this city."
Hudson, referencing an exchange between an unnamed council member and city staff regarding the vehicle fleet plan approved during the previous council meeting, called out council for failing to respect city staff, more specifically, the city manager.
"In this situation, staff got sarcasm, derogatory comments, and this has been common behavior by council for the last ten years," he explained. "No one likes to insulted or come up here and do the 20 questions dance."
Hudson asked council to consider their place and the road they took to get there.
"We have managers and staff to run things, and they have been educated and trained to do so," he reminded them. "We won a contest to get here. They have earned their position here. When we second-guess them, they shut down. That stops them from bringing new ideas to the council. We didn't create this problem. But we have the people on this council that have the character and ethical fortitude to turn this around. Our staff is elite and is respected by other city staff members. It is time this behavior stops."
At the conclusion of his comments, Hudson took his seat, and there were no comments made by other council, the mayor or city manager.