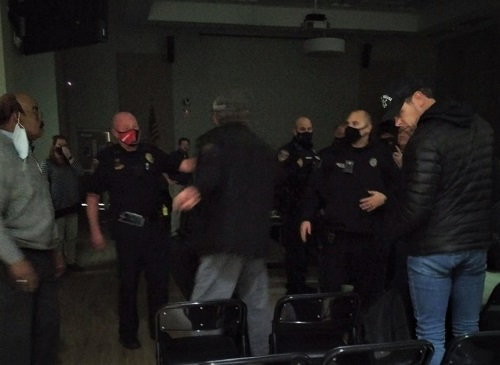 BY KARISSA MILLER
Dozens of parents and community members refused to leave the meeting room at the close of the Iredell-Statesville Schools Board of Education meeting Monday night in protest of the school board's mask mandate and quarantine/exclusion rules.
One protester raced up to the podium and took over the microphone at the end of the meeting in a coordinated effort. Protesters also handed out copies of emails with district leaders and COVID-19 masks literature.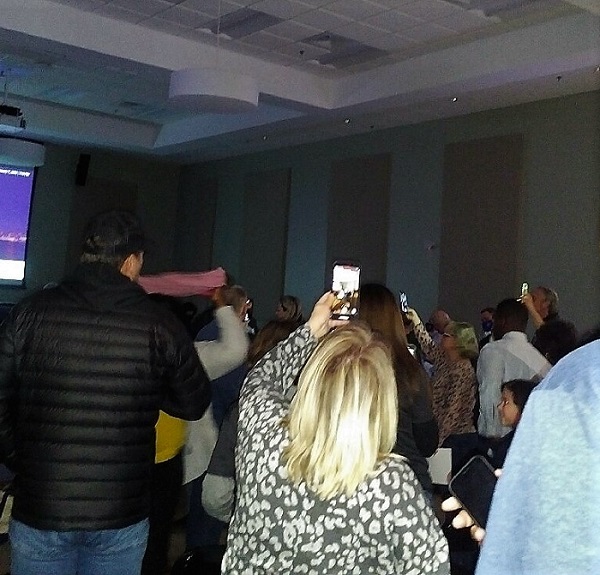 "I'm putting you all on notice. Each of you have broken laws," she accused the board as she began to read her speech.
"Everyone has to go!" yelled one of the Troutman police officers on duty.
A few people left the room while others began shuffling around.
When officers noticed that people were staying, the lights were turned off in the boardroom. However, the crowd remained.
Another officer stated: "The meeting is over. You're now trespassing and could be arrested."
One man replied: "We're not moving. You're going to have to arrest all of us. Of course, we want that to happen."
Some in attendance began taking videos with their phones, while others listened as the speaker continued to read her speech.
The protesters were associated with Free the Smiles, a group that has stated parents — not public health and school officials — should decide whether children are masked or unmasked in public schools.
On more than one occasion, members of the group have expressed their disappointment with I-SS Chief of Strategic Planning and Student Services Boen Nutting, who has endured criticism while reporting COVID-19 data each month.
Kelli Harris, who speaks on behalf of the group at various meeting, handed out papers on a mask study stating that, "Boen Nutting wouldn't allow our board members to know about. I have the email right here as well."
At the end of their demonstration, the protesters started cheering and some yelled, "You've been served."
No one was arrested and the group eventually left the building.
School Board Chairman Todd Carver called the group's demonstration "theatrics and a show."
"They could have easily delivered that copy of information to us. It was after our meeting adjourned — they didn't disrupt our meeting in any shape or form. They said what they wanted to say. I got up and went to the bathroom," he said.
Earlier that night, the Board of Education gave the group 12 minutes to give a presentation.
"We wanted to hear both sides and thought it was the fair thing to do," Carver said.
Iredell Health System officials also gave a 12-minute presentation.