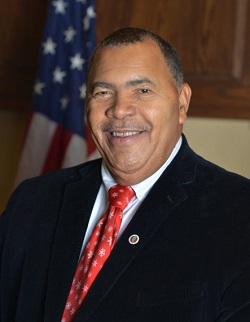 BY MIKE FUHRMAN
Iredell County Commissioner Marvin Norman passed away Wednesday evening following a period of declining health at the Duke University Medical Center in Durham.
Norman, 70, was the first African-American elected to the Iredell County Board of Commissioners. He served on the board continuously after being elected in 2002, including two years as chairman and five years as vice chairman.
He served on numerous committees, boards and task forces, including the Mitchell Community College, Iredell Memorial Hospital Board, the Iredell County Planning Board and the Greater Statesville Chamber of Commerce Board of Directors.
The son of a sharecropper, Norman served in the U.S. Army Reserves and graduated from Mitchell Community College and the University of North Carolina – Charlotte, where he earned a degree in sociology. He retired from EnergyUnited as the director of community relations. He and his wife Juanita have two grown children and six grandchildren.
Norman's fellow commissioners said his loss would be felt far and wide — politically and personally.
Chairman James Mallory said Norman helped learn the ropes following his election eight years ago.
"When I came on the board in 2014 Marvin graciously agreed to continue to serve as Vice Chairman, and as my battle buddy," Mallory said. "He provided much appreciated historical context to many of the issues confronting the County.
"You could always count on Marvin to provide a pithy, cut-to-chase analysis on a full range of issues, and once delivered his opinion more often than not provided the basis for moving forward."
During Norman's tenure, he helped the county government — and its citizens — navigate two significant recessions followed by periods of expansive growth.
"Marvin was particularly committed to improving the quality of life for our citizens, especially our next generation of children, and worked diligently to provide them the education and recreational opportunities to become solid citizens," Mallory said. "Marvin led by example and was a true friend and Christian gentleman. I will miss him.
Commissioner Gene Houpe said Norman was a mentor, likening him to an older brother.
"When I became a commissioner, Marvin told me as long as we do what is right for the citizens, we will never be wrong. I valued working with Marvin and treasured his friendship and advice," Houpe said.
"Marvin Norman will leave a lasting legacy as a true leader, a family man, and a man of God," he added. "His passing is leaving a huge void for Iredell county. While I am sad he is gone, I am happy he was still a commissioner doing what he loved and serving the people of Iredell County until the end."
Commissioner Melissa Neader said Norman always demonstrated his concern for others.
"The first words Marvin would always ask me when we talked were, 'Are you doing okay?' " Neader said. "He genuinely cared about family, friends, community, county staff and others on the board of Commissioners. He was not one to talk just to talk; he spoke when he had something to say and it was important to listen."
Neader and her husband were friends with Norman long before she was elected to the board.
"Mike and I have fond memories of Marvin and his grandkids at our McDonald's over the years," she said. "Marvin would laugh and say, 'Guess where the grandkids want to eat?' He always enjoyed a sausage and egg biscuit!"
During Neader's political campaign, Norman checked on her regularly. One time he shared that he looked forward to having her on the Board of Commissioners because it would be helpful a woman's perspective, she remembered.
"Then he would chuckle and say he grew up with a lot of older sisters. I believe he had seven older sisters 'who had no problem telling him how to act and behave,' " Neader said. "Whether it was the sisters' influence or just his kind heart, he was always respectful and ready to listen."
Neader said she had been looking forward to honoring Norman at the end of his term in December. He deserved to be recognized for his service publicly, she said.
"I told him more than once I am so pleased to be able to serve with him and have him share past experiences and his wisdom with me. Prayers for Mrs. Norman and his entire family. Commissioner Marvin Norman has served his community well."
Commissioner Norman's passing touched leaders across the county.
Tim Brewer, president of Mitchell Community College, said Norman "made great contributions" to the college, including his faithful service as a Board of Trustee member from 1987 to 2007.
"The College is forever grateful to him and his family for their support, and for Marvin's belief in the importance of higher education in Iredell County," Brewer said. "His presence will be missed."
N.C. Sen. Vickie Sawyer said Norman and his family were very special to her.
"His true purpose for being a commissioner was to serve the people of Iredell County. He was a steady hand on the board during controversial decisions which he always handled with patience and grace," Sawyer said. "I will greatly miss Marvin."
Sheriff Darren Campbell said he has known Norman for about three decades. He talked with the commissioner four or five times a week.
"I've known Marvin pretty much my whole law enforcement career. We've been good friends. He was a good, honorable man.
"He's going to have an everlasting effect and leave a legacy for all that he has accomplished for the citizens of Iredell County," Campbell added.
Statesville City Councilman Steve Johnson, who served on the Board of Commissioners with Norman for 12 years, said it was a privilege to work alongside Norman — and he was proud to call him his friend.
"He was an honorable man with a good heart, and he was wise," Johnson said. "I just loved him."
Norman and his wife Juanita stopped by Johnson's business two weeks ago for a visit.
"We shared some old war stories and some funny things and fellowshipped for 15 minutes and had a wonderful time," Johnson said. "I just thought the world of him."
As a commissioner, Norman could be stubborn — and he did not sacrifice his principles for political gain, Johnson said.
"If Marvin had a deeply held conviction about something, he wouldn't budge," he said. "I consider that an honorable trait."
Norman also fully understood the importance of the office he held.
"He was a faithful steward. He understood the concept of moral hazard," Johnson said. "He understood that he was handling someone else's money and he needed to be careful with it."
Ken Robertson, who served alongside Norman for 14 years on the Board of Commissioners, said the late commissioner was unique in today's partisan world.
"He was the least confrontational commissioner I ever served with," Norman explained. "He listened more than he talked, which is a good habit for us all to emulate. When Marvin did speak out, he always took a very strong stand. If you were on the opposing side, that was a good indication you needed to rethink your position."
Robertson recalled once, during the Great Recession, when county revenues declined steeply, commissioners were faced with a significant budget shortfall.
"All the commissioners decided that everything was 'on the table' to reduce spending. We all agreed to explore if we should cease providing funding to 'optional' county services not mandated by state law," Robertson said. "When we first started to discuss the option to cut costs by eliminating the Parks and Recreation Department, Marvin quickly interrupted and said, 'We aren't doing that.' "
When the room grew quiet, Norman repeated himself. "We aren't doing that."
The rest of the commissioners "looked at each other, knew that he was right, and we simply moved to the next item on the agenda without further discussion," Robertson said. "The board respected Marvin."
County commissioners are constantly dealing with budget issues and tasked with making choices about how to best spend taxpayer money. Norman's decisions were not entirely based on dollars and cents.
"No matter how deep we dove into the numbers, Marvin was famous for making sure the human impact was included in all decisions," Robertson said.
"He wasn't just a fellow commissioner, he was a kind man, and a friend. He will be missed."
Funeral Arrangements
Troutman Funeral Home is serving the family. Services have not been announced.