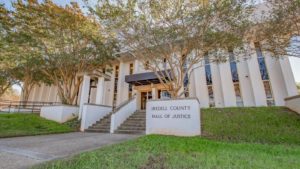 BY MIKE FUHRMAN
An Iredell County Superior Court judge on Thursday denied a request to reduce the bond of a Statesville man charged with killing three people and seriously injuring three others in a crash on Fort Dobbs Road.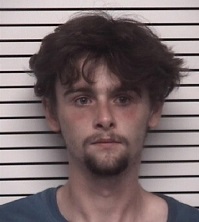 Austin Ray Harmon, 23, has been held in the Iredell County Detention Center in lieu of a $310,000 bond following his arrest on charges that he caused the death of Michael Shane Marlowe, 39, and two of his children, Bentley Marlowe, 5, and Jada Marlowe, 13, in the June 13 accident. Marlowe's partner, Amy Mills, their daughter Bailey Marlowe, and a family friend, Teagan Murphy were all seriously injured.
Harmon was driving a Honda Accord that crashed into a golf cart driven by Michael Marlowe. Harmon is charged with three counts of felony death by motor vehicle, three counts of serious injury by motor vehicle, DWI and reckless driving.
During Thursday's hearing, Harmon's court-appointed defense attorney, Kaleigh Darty, asked Visiting Judge Richard S. Gottlieb to reduce her client's bond to $100,000. He has limited financial means, strong family ties in the community — including his mother, his fiancee and two-year-old daughter — and is not a threat to others, Darty argued.
The defense attorney also cited Harmon's conduct in the aftermath of the tragic crash as evidence of his good character.
"Immediately after this accident, Mr. Harmon stopped his vehicle. He called 911. He checked on the victims," Darty told the judge. "He didn't run. He didn't flee."
In fact, she said, Harmon picked up two-year-old Bailey and tried "to comfort and console her until first responders arrived," Darty said.
The defense attorney also said the facts in the case are in dispute. While the N.C. State Highway Patrol's official accident report has not been finalized, troopers said after the crash that Harmon's vehicle crossed the center line and hit the golf cart.
Darty said Thursday that Harmon's vehicle was in his lane when the crash occurred. According to a witness who was traveling behind Harmon, his Honda "darted to the left to miss the golf cart," she said, implying that Marlowe had driven the golf cart into the Honda's lane of travel.
Assistant District Attorney Elizabeth Floyd, who specializes in prosecuting motor vehicle crashes that result in death, argued that $310,000 was an appropriate bond in this case, noting that local bond guidelines provide for a maximum bond of $750,000 on the charges Harmon faces.
Although she conceded that she does not have the final accident reconstruction report, Floyd said the evidence indicates Harmon was impaired — his blood alcohol content was .12, which is above the legal threshold for impairment when it was tested after the crash.
The preliminary evidence, Floyd said, also indicates Harmon crossed the center line before hitting the golf cart.
Harmon's prior criminal record includes misdemeanor charges of underage alcohol consumption and marijuana possession, which Floyd argued was evidence that he had substance abuse issues and was not a law-abiding citizen.
If released, Harmon will be a danger to others, the prosecutor told the judge.
"It is clear Mr. Harmon is a threat to our community. There are six people in our community who are forever changed because of his actions," Floyd said.
The center row of the courtroom was filled with friends and relatives of the Marlowe and Mills families, who held up signs and posters to show the enormity of the loss caused by the crash. After spending months in the hospital and a nursing facility, Mills, who had one of her legs amputated below the knee, was also present for the hearing.
In his ruling, Judge Gottlieb called the crash and aftermath a "tragic situation."
"It's a tremendous loss for the family," he said before denying the defense motion. "It's a terrible situation for a defendant to find himself in."
Under North Carolina sentencing guidelines, Harmon could face more than 20 years in prison if he is convicted of all charges.