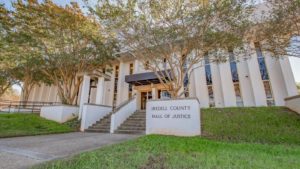 BY MIKE FUHRMAN
A man charged with killing Harmony resident Tommy Cass told an Iredell County Superior Court jury on Wednesday that he shot Cass because he feared for his life.
Testifying in the second day of his first-degree murder trial, Blaine "Dale" Hague said that Cass was moving toward him and reaching inside his hunting jacket when Hague pulled a 9mm pistol from his back pocket and shot him on September 7, 2020.
"He was coming at me full speed," Hague told the jury during direct examination by his attorney, Mark Davis. "At that second, fear ran through me. I've never known that fear since Vietnam."
A few moments before the shooting, Cass had pushed Hague to the ground and then walked 25 to 30 feet away, the defendant said.
Hague, who was 71 years old at the time of the shooting, said he told Cass that he had just committed a felony by assaulting an elderly and disabled person. Throughout his testimony, Hague referenced numerous injuries — including a torn Achilles' tendon, a knee injury, a torn rotator cuff in his shoulder, and a bulging disc in his back — that impaired his mobility.
That set Cass off, Hague said, later describing the man he shot as being "out of his mind" and "crazy that day."
"I had no way of protecting myself," Hague told the jury. "He was so close … He was on top of me.
"When I shot (the gun), he stopped dead in his tracks."
Hague's testified after prosecutor Lisa Coltrain rested her case after calling seven witnesses to the stand and introducing more than 30 exhibits in an effort to convince the jury that Hague was guilty of first-degree murder.
A forensic pathologist testified earlier Wednesday that the 9mm bullet that killed Tommy Cass was fired from a firearm held less than a foot from the victim's face.
Dr. Patrick Lantz, who conducted an autopsy on Cass's body, told the jury that the presence of abrasions caused by unburned gunpowder residue on Cass's face indicated that the gun was "inches away" from Cass's head when the weapon was discharged.
A 9mm round struck Cass in the face just below the left eye, traveled through his brain, fractured his skull and lodged in the skin in the back of his head, killing him, Lantz told the jury.
Cass's hunting companions testified Tuesday that they saw Hague raise his arm and shoot Cass after Cass pushed Hague down during a dispute in a cornfield on the old Campbell dairy farm in Union Grove just after sunrise on September 7, 2020.
In his testimony Wednesday, Hague also attempted to refute the hunters' claim — as well as testimony from Tommy Cass's widow — that he and Cass had an ongoing dispute related to Cass hunting in the field next to Hague's home off Tobys Footlog Drive.
Grant Evans, Don White, Brent Cass and Tommy Cass's son Thomas all testified that Tommy Cass had told them Hague did not want him hunting near his home on several occasions. Tommy Cass had written permission from the land owner, Bonnie Campbell, to hunt on the property.
Hague, however, testified that he had a "good rapport" with Tommy Cass. He said he went into the field on the morning Cass was shot — armed with a handgun as he has done everyday since Vietnam — because early morning gunfire had spooked one of his horses. He simply wanted the hunters to move 30 to 40 yards away from his property, he testified.
The defendant's version of the shooting also differed from the account offered by the hunters, who said Tommy Cass pushed Hague during the dispute but did not walk away from him.
Tommy Cass stuck his arms up and said "Whoa!" before Hague opened fire, according to Evans' testimony.
The defendant and the defense attorney sought to make Tommy Cass's character part of the case.
Davis introduced evidence that Tommy Cass had oxycodone in his system when he died. And deputies found five pills, a pill crusher and two marijuana joints in his hunting pouch and pants.
Hague, whose attorney sought unsuccessfully to introduce evidence that Tommy Cass had been convicted of felony assault and felony cocaine possession, also testified about an incident in which Cass had made derogatory comments to him about judges and law enforcement officers.
The defendant also told the jury that he had seen Tommy Cass with a pistol in his waistband while he was hunting previously.
Hague said he thought that Tommy Cass was reaching for a gun when he shot him, and he also implied Wednesday that he believed that Brent Cass removed the weapon before Iredell County Sheriff's Office personnel and special agents from the N.C. State Bureau of Investigation arrived at the scene.
Although Hague insisted from the beginning that the shooting was in self-defense, he never told investigators he saw Brent Cass bend over the victim's body, SBI Special Agent Jefferson Waugh testified Wednesday.
Law enforcement did not find a pistol near Tommy Cass's body and his shotgun was found 121 feet away from his body, along with unused shotgun shells and a dead dove, Waugh testified.
Karla Cass also returned to the stand Wednesday and told the jury that her husband did not carry a handgun. The only pistol they owned, she told the jury, was the .22-caliber Ruger that was on her husband's nightstand at time he was killed.
Hague also testified Don White and Brent Cass threatened to kill him as he left the cornfield after shooting Tommy Cass, calling him a "dead man."
The defendant did not report that threat when he called Iredell County emergency communications to report the shooting.
The prosecutor seemed incredulous as she cross-examined Hague about those threats, asserting that while Don White and Brent Cass had shotguns, Tommy Cass was unarmed when Hague killed him.
"You didn't shoot them, did you?" Coltrain asked the defendant.
"I didn't want to shoot anybody," Hague responded.
When the trial resumes Thursday morning, the attorneys will make closing arguments, and Judge David Hall will give the jury instructions to guide their deliberations.
Related Article
Witnesses: Defendant shot and killed Harmony man during dispute over hunting