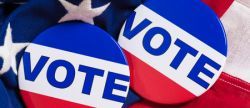 FROM STAFF REPORTS
Tommy DeWeese was elected as the Ward 3 representative on the Mooresville Town Board of Commissioners on Tuesday.
DeWeese received 112 votes (46 percent) to defeat Kevin Kasel, who received 74 votes (31 percent). A variety of write-in candidates received a total of 56 votes.
DeWeese will succeed Commissioner Barbara Whittington, who decided not to seek another term.
In the Ward 4 race, Mayor Pro Tem Lisa Qualls was elected to another term on Tuesday.
Qualls was unopposed, and voter turnout was extremely low in Ward 4. She garnered 31 votes. Write-in candidates received nine votes.
All election results are unofficial until they are certified by the Iredell County Board of Elections.