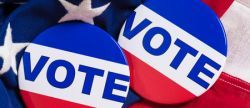 FROM STAFF REPORTS
The results in the Statesville run-off races are unlikely to change when the Iredell County Board of Elections conducts the official canvass of the July 26 election on August 5.
Elections Director Susie Jordan said on Friday that no vote-by-mail absentee ballots were received by the Elections Office between Tuesday and Friday's deadline.
There was a possibility that as many as 33 absentee ballots could have been received, but the individuals who requested those did not return them in time to be counted.
When the unofficial results in the run-off for two at-large seats on the Statesville City Council were released last Tuesday, challenger Kim Wasson was the leading vote-getter by 23 votes and second-place candidate Steve Johnson led third-place candidate James Pressly by seven votes.
When the Board of Elections meets on August 5, it will consider whether one additional provisional ballot should be counted. A second provisional ballot has already been disqualified by elections staff.
Under N.C. law, Pressly has until August 8 to request an official recount.
In recent recounts in Iredell County, the vote totals have not significantly changed. When local elections officials conducted a recount in an Iredell-Statesville Schools Board of Education race in May, the five-vote margin between first- and second-place candidates changed by one vote.
Statesville Mayor Costi Kutteh and the newly elected council members will be sworn in during the council's regular meeting on August 15.