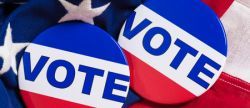 FROM STAFF REPORTS
With the filing deadline rapidly approaching for the May 17 primary election, several candidates for local and state offices in Iredell County remain unopposed.
All four state lawmakers who represent parts of Iredell County will be elected without opposition unless challengers emerge by the filing deadline at 12 noon on Friday, March 4.
Similarly, two races for seats on the Iredell-Statesville Schools Board of Education have attracted only one candidate. The same is true for Iredell County sheriff, a district court judgeship and three municipal races.
At the opposite end of the spectrum, 10 Republicans and one Democrat have filed to run for three seats on the Iredell County Board of Commissioners. Only one incumbent has filed in that contest.
The races for two at-large seats on the Statesville City Council have also drawn a full field, with seven candidates filing so far.
Only one Democrat has filed to run in Iredell County.
Interested in Running for Office?
Visit HERE for more information on Iredell County elections.
Candidate List
Here's the latest list of candidates who have filed for local and state races in Iredell County:
N.C. STATE SENATE
District 37
♦ Vickie Sawyer (R)
N.C. HOUSE
District 84
♦ Jeffrey C. McNeely (R)
N.C. HOUSE
District 89
♦ Mitchell Smith Setzer (R)
N.C. HOUSE
District 95
♦ Grey Mills (R)
NC DISTRICT COURT JUDGE
District 22A SEAT 01
♦ Carole A. Hicks (R)
IREDELL COUNTY BOARD OF COMMISSIONERS
(3 Seats)
♦ Michelle M. Goree (D)
♦ Gene Houpe (R)
♦ Laketha Bobish (R)
♦ Larry Payne (R)
♦ Richard Coleman (R)
♦ Brad Stroud Sr. (R)
♦ Bert Connolly (R)
♦ Blake Palmer (R)
♦ Angela Wokatsch Matthews (R)
♦ Richard (Todd) Carver (R)
♦ Cindy Haynes (R)
IREDELL COUNTY CLERK OF SUPERIOR COURT
♦ Jim Mixson (R)
♦ Barry D. Tilley (R)
IREDELL COUNTY REGISTER OF DEEDS
♦ Maureen P. Purcell (R)
♦ Renee L. Holland (R)
IREDELL COUNTY SHERIFF
♦ Darren E. Campbell (R)
IREDELL-STATESVILLE SCHOOLS BOARD OF EDUCATION
District 1
♦ Ricky Driver (R)
♦ Brian Sloan (R)
District 3
♦ Abby Trent (R)
♦ Kent Shoffner (R)
♦ Tammy B. Wyatt (R)
District 5
♦ Mike Kubiniec (R)
District 7
♦ Anita Kurn (R)
TOWN OF MOORESVILLE
Commissioner – Ward 3
♦ James (Toodles) Ritchie
Commissioner – Ward 4
♦ Lisa M. Qualls
CITY OF STATESVILLE
Mayor
♦ Joseph Glasgow
♦ Beniah (Ben) McMiller
♦ Christopher M. McCormick
♦ Michael Johnson
Councilman At-Large
♦ Mark Goldman
♦ Christopher Spraggins
♦ Kimberly Wasson
♦ Roger Bejcek
♦ Terry Fitzgerald Sharpe
♦ William Morgan
♦ Steve Johnson
Councilman – Ward 2
♦ C. O. Johnson
Councilman – Ward 3
♦ Doris A. Allison
♦ Oliver Louis Wilder Jr.
Councilman – Ward 5
♦ Joe Hudson
♦ John Staford
Note to Candidates
Email your campaign announcements to iredellfreenews@gmail.com.