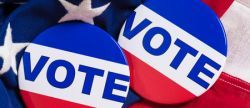 FROM STAFF REPORTS
There was a slight change in the vote total in the Republican primary for the District 3 seat on Iredell-Statesville Schools Board of Education on Wednesday.
Following a recount, Abby Trent was declared the official winner — by a mere four votes.
Trent's final tally — 670 votes — dropped by one following an official recount on Wednesday. Challenger Kent Shoffner, who requested the recount, garnered 666 votes, according to the Iredell County Elections Office.
Trent will face Democrat Michelle Coffey in the November election.
A representative from the N.C. Board of Elections was present to observe the recount on Wednesday.
After the voting machines were tested on Tuesday, elections officials conducted the recount on Wednesday by tabulating the votes in the District 3 race from the one-stop voting locations as well as absentee and provisional ballots approved by the Board of Elections and the ballots cast at the polls in the May 17 primary in Statesville precincts 1, 2, 4 and 5.
The process took more than four hours, elections officials said.
Runoffs set for July 27
Elections officials confirmed on Wednesday that there will be runoffs in the Statesville mayoral race and the race for two at-large seats on the Statesville Council on July 27.
Mayoral candidate Brian Summers, who finished second in the May 17 primary, has officially requested a runoff against incumbent Cost Kutteh.
In the race for two at-large council seats, Kim Wasson has officially requested a runoff. Wasson finished third behind incumbent Steve Johnson and James Pressly. Incumbent William Morgan, who finished fourth and could have requested a runoff, decided not to do so.