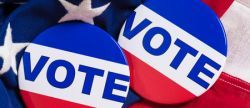 BY MIKE FUHRMAN
The outcome of two races in Iredell County could be altered later this week when the Iredell County Board of Elections meets.
The Board of Elections will meet at 11 a.m. on Friday to conduct the official canvass of the May 17 primary and municipal elections. All elections results are unofficial until the board certifies the results.
During Friday's meeting, 54 absentee ballots that have not yet been counted will be tallied, elections officials said. Those ballots were sent in by mail. They had to be postmarked by election day and received by May 20 to be valid.
The elections board will also determine whether 12 provisional ballots, which were cast on election day at the polls, should be counted.
All of the uncounted ballots have been kept in a locked vault until they are counted, elections officials said.
Those 66 ballots could determine who wins the District 3 seat on the Iredell-Statesville Schools Board of Education and the Ward 3 seat on the Town of Mooresville Board of Commissioners.
In the I-SS race, Abby Trent leads Kent Shoffner by five votes.
In the Mooresville commissioner race, Kevin Kasel has a four-vote lead over Tommy DeWeese. Regardless of the outcome, Kasel and DeWeese will square off in the municipal election because their race was a primary, elections officials said.
It was unknown how many of the uncounted absentee and provisional ballots were in the I-SS District 3 race and the Mooresville Ward 3 race.
Elections officials said Tuesday that there are not enough uncounted votes in the City of Statesville to change the outcome of the race for mayor and the city council at-large races.
In the mayoral race, Brian Summers finished second, outpolling Michael Johnson by 24 votes. Incumbent Costi Kutteh received the most votes.
In the race for two at-large seats on the city council, James Pressley finished second, eclipsing Kim Wasson by 11 votes. Incumbent Steve Johnson finished first.
Elections officials said only eight of the uncounted ballots were cast by voters in the City of Statesville.
Run-Off Deadline
The deadline for eligible candidates to call for a run-off election is 12 noon on June 2.
The only candidates who can call for a run-off are Summers in the Statesville mayoral race, and Wasson and fourth-place finisher William Morgan in the Statesville council at-large race.