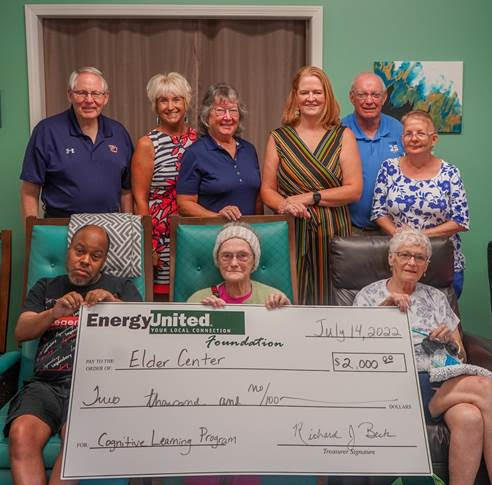 Special to Iredell Free News
The EnergyUnited Foundation has awarded a $2,000 grant to Iredell Adult Day Services (ElderCenter) to provide funding in support of the organization's cognitive learning program.
For nearly 35 years, ElderCenter has been providing care for adults who require daytime supervision. The organization serves adults with disabilities and mental cognition issues. Thanks to ElderCenter, their clients' loved ones are able to continue working for necessary financial stability.
"We are grateful to receive this support from the EnergyUnited Foundation," said Rev. Tom Corbell, board president of ElderCenter. "This grant will provide funding for computers and iPads to support cognitive learning efforts, which helps improve comprehension, problem-solving skills, and confidence."
"ElderCenter plays an important role in protecting the financial security of families in Iredell County who have adult loved ones with disabilities and those who need daytime supervision," said Debra Citta, administrator of the EnergyUnited Foundation. "The Foundation is proud to support the organization and its cognitive learning program."
The EnergyUnited Foundation is a voluntary, member-funded non-profit organization supported by EnergyUnited's Operation Round-Up program. Nearly 90,000 EnergyUnited members choose to participate in the program by 'rounding up' their electric bills each month. The maximum monthly contribution for an individual member with one account is 99 cents. Each of these small contributions are pooled together in a single fund managed by the EnergyUnited Foundation to support needy individuals, families, and non-profit organizations that complete an application explaining the reason and purpose for their requested grant.