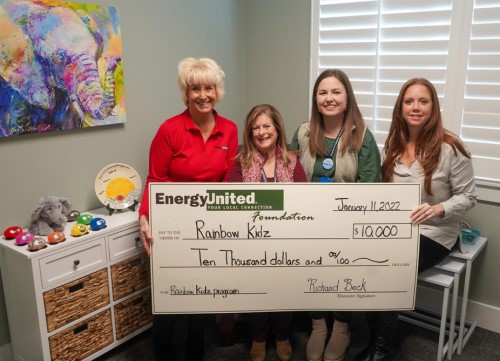 Special to Iredell Free News
The EnergyUnited Foundation recently donated $10,000 to Hospice & Palliative Care of Iredell County to provide support for the Rainbow Kidz Pediatric Grief Program. The program provides free counseling for children in Iredell County who are experiencing grief-related issues due to the loss of a loved one.
"Rainbow Kidz is truly making a positive difference in the lives of grieving children," said Rainbow Kidz Director Leigh Ann Darty. "During the 2020 school year, 98 percent of students identified a new coping mechanism learned through group and 95 percent of participants improved in grades, attendance and/or behavior."
The EnergyUnited Foundation regularly provides support for individuals and community partners like Hospice & Palliative Care of Iredell County that offer essential services.
"EnergyUnited is committed to providing a brighter future for our communities," said Maureen Moore, communications manager for EnergyUnited. "The foundation supports this vision by providing critical assistance for individuals and nonprofit organizations in our communities."
The EnergyUnited Foundation is a voluntary, member-funded nonprofit organization supported by EnergyUnited's Operation Round-Up program. Nearly 90,000 EnergyUnited members choose to participate in the program by "rounding up" their electric bills each month. The maximum monthly contribution for an individual member with one account is 99 cents. Each of these small contributions are pooled together in a single fund managed by the EnergyUnited Foundation to support needy individuals, families, and essential nonprofit organizations that complete an application explaining the reason and purpose for their requested grant.
About EnergyUnited
EnergyUnited Electric Membership Corporation (EMC) is the largest electric cooperative in North Carolina serving more than 131,000 metering points. Headquartered in Statesville, EnergyUnited provides electric service in portions of nineteen counties in west central North Carolina which include Alexander, Cabarrus, Caldwell, Catawba, Davidson, Davie, Forsyth, Gaston, Guilford, Iredell, Lincoln, Mecklenburg, Montgomery, Randolph, Rockingham, Rowan, Stokes, Wilkes and Yadkin. To learn more about the EnergyUnited Foundation, please visit www.energyunited.com/givingback.