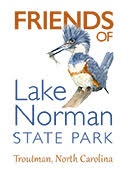 Special to Iredell Free News
Friends of Lake Norman State Park is planning a full day of activities this Saturday, September 24, including a service project, its annual meeting and lunch, and an afternoon nature trail hike.
In recognition of Public Public Lands Day, Ranger Frances Bozak will lead a volunteer service project in the park from 9 a.m. to 12 noon. Those interested should meet at the Visitors Center at 9 a.m. and wear sturdy, comfortable shoes. Any necessary tools will be provided.
At 12 noon, the FLANO Annual Meeting, including lunch, will be held at the Heron Shelter behind the Lake Norman State Park Visitor Center. The meeting is open to members and to anyone interested in learning about or joining the organization.
Board elections and a presentation on the group's past efforts and upcoming projects will be held during the meeting.
At 2 p.m. FLANO is holding a free, hour-long Alder Trail discovery hike leaving from the Heron Picnic Shelter behind the Lake Norman State Park Visitors Center. This romp through the wildlands of Lake Norman State Park is also in celebration of National Public Lands Day.
The hike will be led by retired N.C. State Park Superintendent Greg Schneider. Participants will search for late summer wildflowers, plants, and animal signs along the trail. Participants should wear sturdy shoes for this moderately strenuous walk in the woods.
For more information, feel free to call or text Schneider at (919) 215-7170.
The Friends of Lake Norman State Park is a non-profit organization dedicated to supporting the educational outreach, natural resources conservation, and recreational operations of Lake Norman State Park.
LEARN MORE
For more information, visit https://www.friendsoflakenormanstatepark.org.