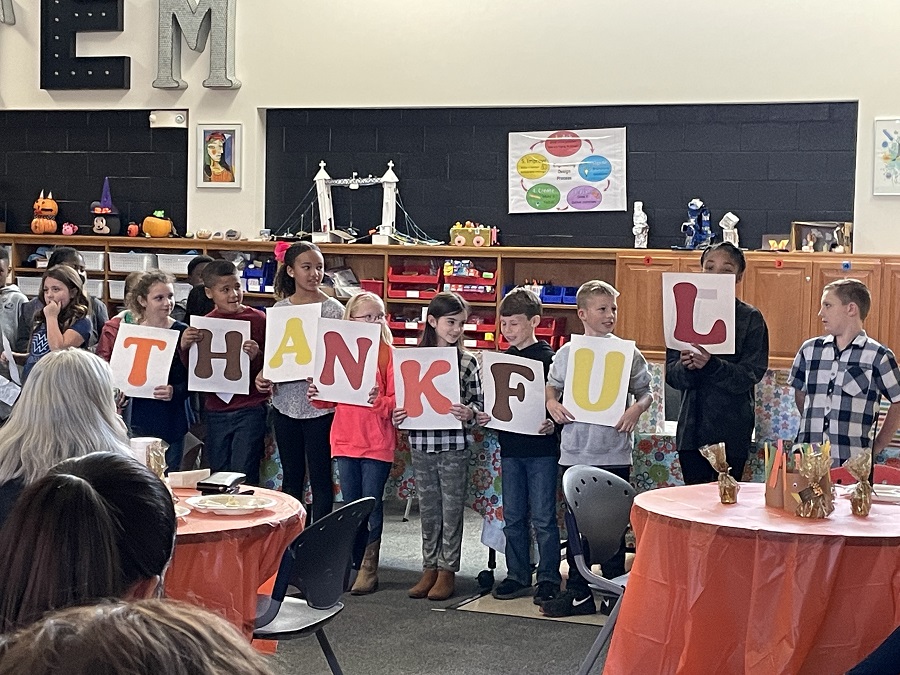 BY KARISSA MILLER
The Celeste Henkel Elementary School media center was a hive of activity Monday as the school held its first Community Partner Appreciation Luncheon.
The event brought together volunteers, businesses, nonprofits and other organizations who support help the teachers and 550 students at the STEM school throughout the school year.
To show its appreciation, the school's community social goal team organized a catered Thanksgiving lunch with all the sides and deserts for their partners.
Each grade level came through the library at different times to give the community partners a round of applause, wave and drop off homemade cards.
Principal Frank Saraco thanked the special guests for their commitment to the students.
"I want to thank you for taking time out of your busy day to be here," Saraco said, "so that we can just thank you for your generosity, your help, the time that you spend investing in our students and in our school."
"I truly believe that it takes a village — it takes a community — it takes everybody working together for the school to be successful," he added.
Teacher Laura Caldwell introduced the music segment of the luncheon. The students started off their special program by holding up large letters that spelled out Thankful. Each letter represented something that they are grateful for.
After they spelled out thankful, they said together, "Thankful for you."
Fourth-grader Lucas Summerford read a speech that he wrote with the help of his teacher.
"Thank you for being our leaders, heroes and role models without cake. Thank you for helping us thrive in our hive," Summerford said.
For the finale, students sang a funny song about Thanksgiving getting lost and forgotten that made everyone smile.
In closing, Saraco told guests about the time he became the principal at Celeste when all the staff and students were required to wear face masks in 2020.
He admitted that starting off the school year not knowing what people looked like while being new to the community amidst a pandemic wasn't the easiest transition.
However, with all of the challenges, he was met with an outpouring of support from the community — welcoming him and reminding the staff that they weren't alone.
"All of you stepped up. We had food bags filled. We had gifts for Christmas. We had people covering us for prayer for safety," he recalled.
Saraco said that they also went from having 30 food bags sent home to 125 food bags because of the pandemic.
"It's just overwhelming. We all had tears in our eyes thinking how generous you are," he said.
Community Partners
• Mountain Road Baptist Church;
• Addison Hutchinson Foundation;
• Tilley Dance Studio;
• Food Lion on Old Mountain Road;
• Mike Jones Racing;
• GMS Racing;
• Beulah Baptist Church;
• Bethlehem United Methodist Church;
• Celeste PTO;
• Goodnews Club; and
• Petty GMS
Photos