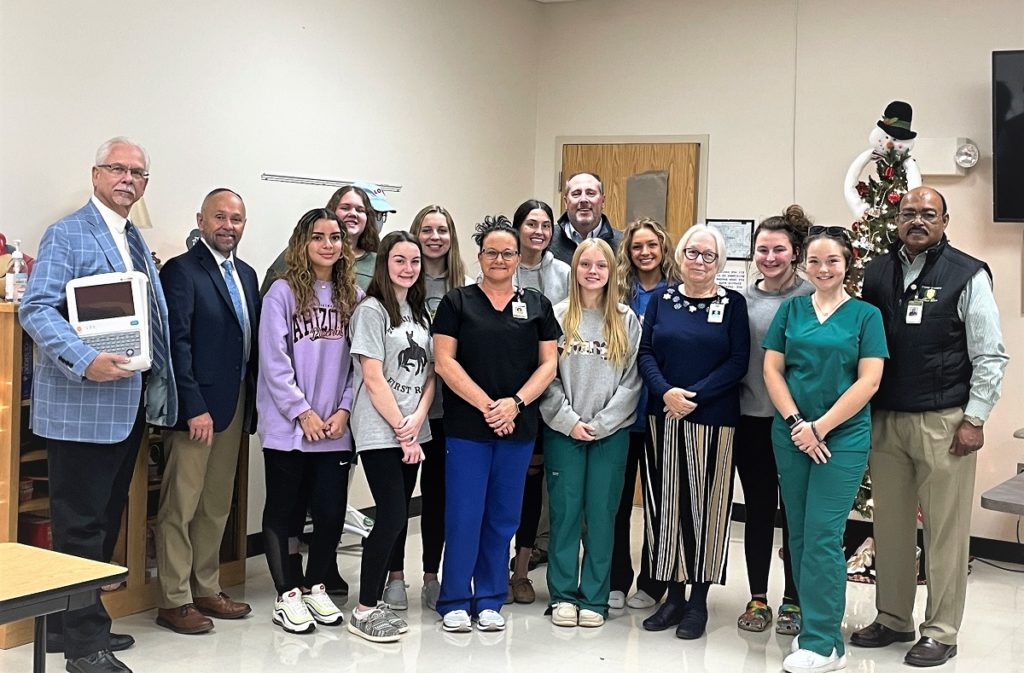 BY KARISSA MILLER
Piedmont Healthcare had donated an electrocardiogram (EKG) machine to Career Academy and Technical School to help students become prepared for real life experiences in the medical field.
Piedmont HealthCare CEO Jeff Smith and Director of Operations and Human Resources Jeff Taylor were on hand along with CATS Principal Larry Rogers, Nursing Instructors Kim Rogers and Jamie Head and I-SS Executive Director of Industry, Trade and Business Development Todd Williams.
"We work closely with the schools and Mitchell Community College to support the students in our community," Taylor said.
Piedmont Healthcare's Cardiology Department has a newer updated EKG machine. As a result, Taylor said, the provider was able to help the next generation of healthcare workers.
Larry Rogers thanked Piedmont Healthcare for their partnership and their generous donation. It will be the first time the Nursing Certified Nursing Assistant (CNA) program has had its own dedicated EKG machine.
The nursing instructors said every student will have a chance to have hands-on experience with an EKG machine before they graduate or launch their medical career.
Head said that she priced a refurbished EKG machine a while back and it was around $1,500. She said the cost of an EKG machine they received can run anywhere between $3,000 and upwards.
Kim Rogers said the machine will be used as a teaching tool to expand their students' base of knowledge.
She explained that EKG machines can detect irregularities as well as if a heart attack is occurring.
Nurses at Piedmont HealthCare and other hospitals now carry out tests on patients waiting to be seen by a doctor. Doctors can then see the results immediately.
This will help their students provide the best care possible for their community.
Meanwhile, students were very eager to learn to use the machine. However, with their state CNA tests on December 10-11, Head said that they still have a lot to fit in this semester and will probably begin using it next semester.
After a group picture with the CNA nursing students, Taylor told students about the new state sponsored apprenticeship program, which launched this year.
The program, which a partnership with I-SS, Mitchell Community College and Piedmont HealthCare, pays high school students to work as Piedmont HealthCare employees while they are in high school and college.
"With the apprenticeship program, you get your education paid for while at Mitchell Community College," Taylor said.
Students can work in a variety of healthcare settings, including in the central lab, urgent cares, doctors' offices, as a receptionist and a medical office assistant.
With the apprenticeship program, students must sign a letter of intent before they graduate high school for it to be no cost, he said.
Currently, Piedmont HealthCare offers five different programs with I-SS. They are Phlebotomy, Certified Medical Assistant, Registered Nurse, Office Management and Business Service or Insurance Coding.
There are also discussions about about starting a pre-apprenticeship program and expanding career offerings for nursing students.