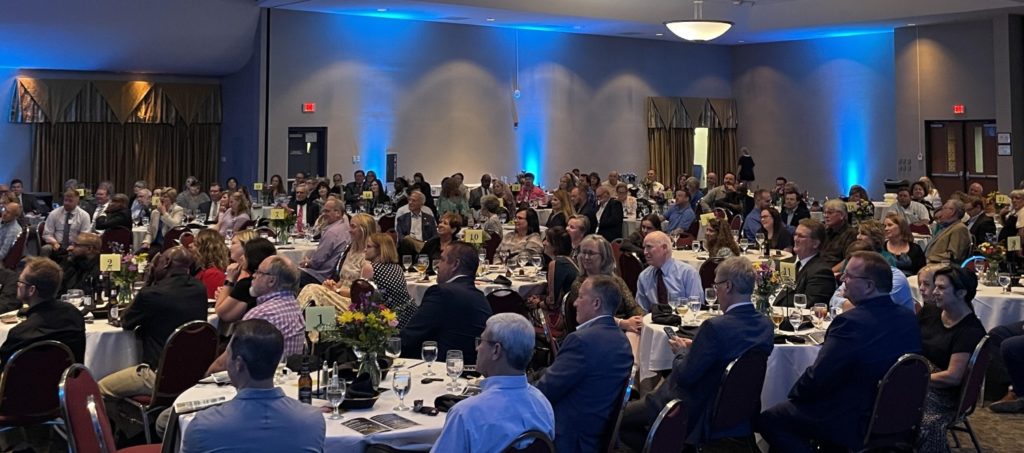 FROM STAFF REPORTS
More than 200 industry, business and civic leaders attended the Greater Statesville Chamber of Commerce Annual Meeting & Awards Banquet at the Statesville Civic Center on Tuesday evening.
It was a night to celebrate the resilience and work of Chamber members during the past two years as well as the efforts of Chamber leaders to keep the organization afloat, relevant and valuable during a global pandemic. Outgoing board chair Kristi Madison Pfeufer and incoming chair Tracey Gibson highlighted the work the Chamber has done over the past two years and shared their excitement about all the Chamber will achieve in the next year.
"We never slowed down and we never stopped working for you," President Shannon Viera told the audience.
It was also a night to celebrate excellence. The Chamber presented four awards:
♦ The Large Business of the Year Award, sponsored by Iredell Health System, was presented to Banner Drug. A staple in the community since 1996, Banner Drug expanded in 2017 by adding three stores. Owners John and Melinda Childress, who accepted the award, believe in treating their customers as family. "The know your name, your kids' names, and your four-legged family members. Giving back to the community has always been a priority, and they serve on local boards and volunteer at events.
♦ The Small Business of the Year Award was presented to Doug Madison Realty. This company believes in God, integrity, trust and fairness for all. The Madisons and their them serve all over the county as board members, volunteers and mentoring. Accepting the award were Doug Madison, Sandra Madison, Matt Madison, Jon Madison and Kristi Madison Pfeufer.
♦ The Community Impact Award was given to Fifth Street Ministries, which was founded in 1988 to serve the area's homeless population. Over the years Fifth Street has expanded its scope to serve veterans and victims of domestic violence. The nonprofit provides comfort, food, shelter and encouragement. Fifth Street employee Dan Miglin accepted the award.
♦ The Citizen of the Year Award, sponsored by Nicholson Funeral Home, was awarded to Jeffrey Smith, CEO of Piedmont HealthCare. After moving to Statesville nine years ago, Smith immersed himself in in the community by serving on the Economic Development Board and the Greater Statesville Chamber of Commerce Board. He has served as the chairman of the Chamber board and as finance chair. He also sits on the MGMA Board of Directors and is currently the chair of Finance and Audit, all while leading a health care organization with more than 1,200 employees.
"He has been a leader in this community since he moved to the area. He has supported our local leadership, youth, and all sectors of our community," said Nicholson Funeral Home President Bill Brater, who presented the award. "I could list countless committees, sponsorships of health forums, networking, major events, and concerts in our area that he has supported. He shows up, he is involved and wants to see Statesville be the best place to live, work, and play. I believe there is no better recipient for this award."
It was also a night to inspire. Speaker Mike Lyles delivered the keynote address, urging attendees to lead a purposeful life built on finding significance, not success.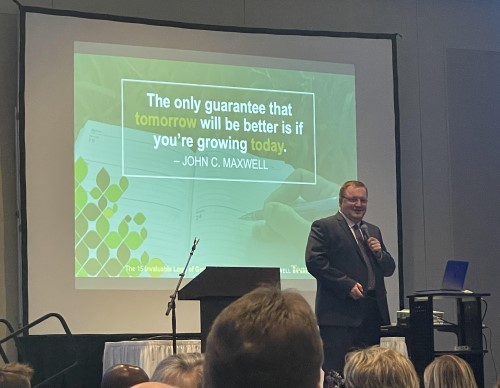 A John Maxwell speaker and author of "The Drive-Thru is Not Faster," Lyles said focusing solely on financial goals may yield material rewards, but it will not lead to meaningful change in the world. "Brushing your teeth is temporary — and so is success," he said.
During the COVID-19 pandemic, Lyles said he learned what's important: helping others.
"The big question is: What matters to you, what matters to the world?" he explained. "You define it for yourself, for your company, for your community."
Denso was the title sponsor for the evening and their new president, Jon Callies, spoke briefly about DENSO Statesville becoming the North American headquarters for production of smart motors for DENSO. He also presented a video showcasing Denso and its facilities.
Dinner was catered by 220 Cafe and the program ended with music provided by DJ Julius Hoke.
Photos