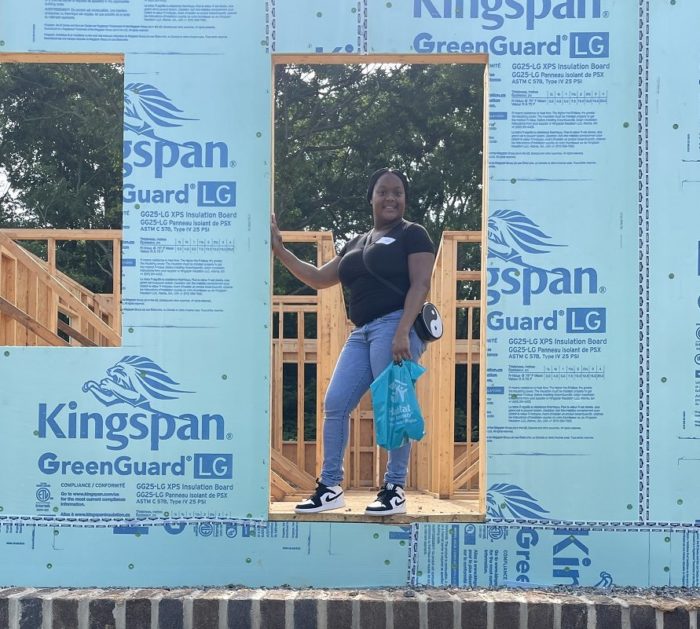 BY KARISSA MILLER
Habitat for Humanity held a kick-off ceremony for the construction of four new homes being built on McLaughlin Street in Statesville Wednesday morning.
Now that the COVID-19 pandemic has eased and the Iredell and Charlotte chapters have merged, Habitat has two active construction sites and two others in the pipeline.
According to officials, these homes a part of a nearly $2 million initial investment by Habitat in Iredell County that will include new-home construction and critical repair work to preserve existing owner-occupied homes.
Habitat for Humanity Director of Development Brooke Moose said the goal is to have the four new homes move-in ready by 2023.
The biggest challenges facing the nonprofit are supply chain issues and the rising cost of materials, along with finding eager volunteers.
"A lot of volunteers have come back, but we still aren't at the levels that we were pre-pandemic," Moose explained.
Habitat, she said, seeks to put God's love into action.
"Being able to hand the homeowner the keys once their hard work is complete and celebrate with them and come into the house — the mission in action is my favorite part," Moose said.
Quannesia Burton
One of the active construction sites is the future home of Quannesia Burton, 29, who is looking forward to moving to Iredell from the Charlotte area. She will live at 1209 McLaughlin Street.
She first benefitted from a Habitat home as a child.
"My mother has a Habitat house. We moved into it '98 when I was five years old," Burton said. "So I knew about Habitat all my life."
She has been working alongside volunteers picking up tools and helped put up the walls two weekends ago to provide "sweat equity" hours that are required of all Habitat homeowners.
Burton will live in the three-bedroom, one-and-a-half bath house with her niece.
"At the age of 29, it's my biggest accomplishment. A lot of people wait until they are 40 or they have kids. It's a learning process," she said.
"I took the homeownership classes and learned a lot about budgeting," she added.
Margaretta Cowan
Born and raised in Statesville, Cowan grew up on McLaughlin Street and is excited to soon live on McLaughlin Street with her kids.
Construction on her 1,300-square-foot home at 1206 McLaughlin Street will begin this fall.
"Anything is possible. It's a surreal moment. I believe I'm the second in my family out of the grandkids to be a homeowner," Cowan said.
Cowan said that she's been telling family and co-workers about the Habitat program. As a result, one of her friends will move into a nearby Habitat.
Cowan said she wanted to thank her mom, Jean Dulin, and dad, Keith Jackson, for partnering with her during her sweat equity hours.
She said the 16-week homeowner class taught her a lot about homeownership, including everything from HVAC systems to budgeting.
Cowan was also able to share those lessons with her oldest son, Jayden.
"If I can do it, anyone can do it. Don't give up. Keep going and keep God first in everything that you do," she said.
LEARN MORE
Volunteers interested in helping with these builds can contact Volunteer Services at volunteer@habitatCLTregion.org or call 704-716-7078.
Photos