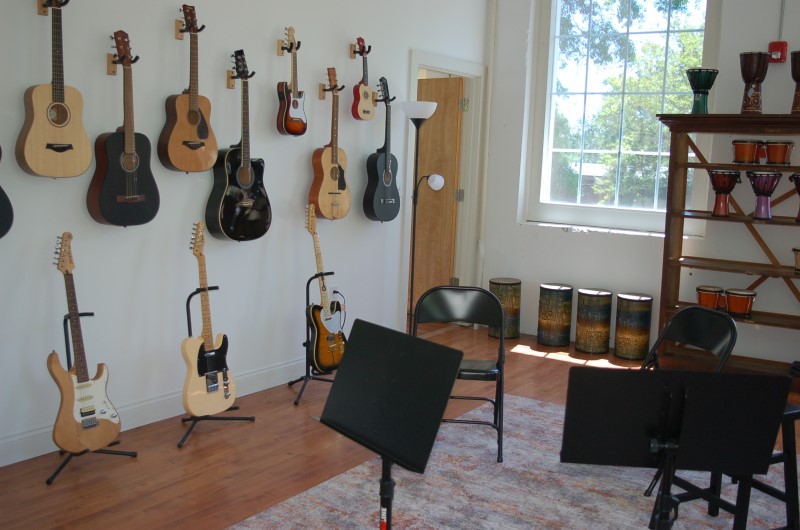 MUSIC SPEAKS" series features Clay Lunsford on April 28
BY DEBBIE PAGE
debbiepage.iredellfreenews@gmail.com
Neuroscientists' research regarding music and brain function underscores what people have known intuitively for centuries: Music can reduce stress, expand creativity, treat depression, and promote healing from traumatic events.
Other studies reveal that expressing oneself through art can help reduce depression and anxiety as well as improve memory, reasoning, and resilience.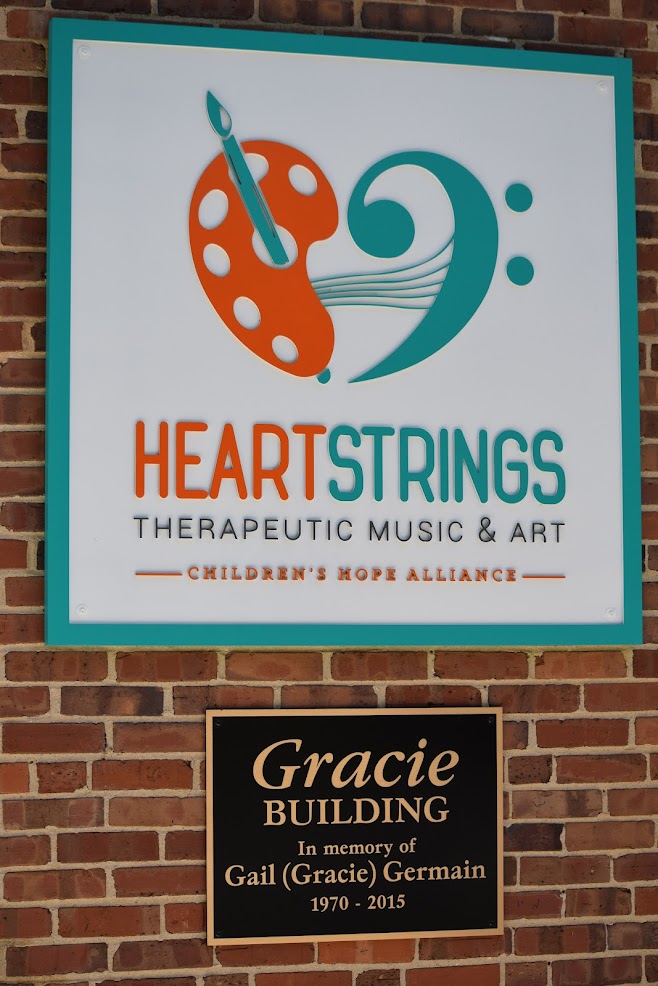 Statesville resident Bob Germain, founder of Gracie Foundation to honor his wife who died of cancer in 2015, decided to expand the organization's mission to fund the Heartstrings program, in partnership with Children's Hope Alliance (CHA), to help at-risk kids through exploring creativity and self-expression in the arts.
A musician himself, Germain knew the healing power of music in his own hard times and wanted to share the arts with struggling children and teens ages 5 through 18, all free of charge.
With generous funding from Germain and the Gracie Foundation, CHA renovated the old laundry building on the Barium Springs campus (153 Frazier Loop) to house this new program.
Heartstrings' staffer Paula Miller said the renovation preserved some unique characteristics and history, including the old brick walls, exposed beams and rafters, wood stairs and railings, and the refinished concrete floor.
A large display recounts the history of the building, which was constructed in 1922 and once part of the Barium Springs Home for Children. Photos show teens working in the sewing area while younger children assisted in the laundry area.
Troutman Chair built bar tables from reclaimed wood from the Barium Springs campus, and one of the huge original laundry tables was beautifully refinished as a gathering place for meetings and youth mentoring program sessions.
The huge new windows stream light throughout the large building, which features several seating areas, small bar-style tables with chairs for coffee customers, and the coffee bar stool seating area. Sweet Dreams in Mooresville provided the large comfy chairs near the stage area.
Upstairs is a music room filled with instruments, two small piano teaching/practice rooms, and a huge flexible art room space for teaching classes, yoga, and other activities.
Music therapist Stephanie Holly also takes percussion instruments out to area schools for therapy with students.
Funding for all the Heartstrings programs comes from a variety of sources, including CHA, a United Way grant, private donations, privately donated items, and organization and church donation drives of art supplies and other needs.
FREE MUSIC AND ARTS PROGRAMS
The center staff is committed to offering free educational and experiential music and art opportunities to enrich the lives of at-risk children and their families. The program is based on the belief that music and art are effective and empowering methods for problem-solving and promoting growth and well-being in individuals, families, and communities.
The music and arts classes are led by carefully vetted volunteers and community members who lend their talents and skills in a wide variety of classes.
Children and their immediate families referred by or receiving services from Children's Hope Alliance who live in or around Iredell County, including clients, birth families, and foster or adoptive family members, are all eligible.
However, Miller said no entrance criteria exists and that all community children are welcome in the music and art classes, which can fill quickly. "We say at risk-kids, but there's no checking a box."
Students can learn skills like playing guitar and piano and painting and drawing, as well as experiencing live performances from area artists. They can also take arts and craft classes, learn to play ukulele and percussion, or take voice lessons. Available classes depend on volunteer teacher and artist availability.
Upcoming classes include recycled art mobiles, guitar, piano, voice, ukulele, photography, papier mache, virtual yoga, card-making, decorating tote bags, tie dye projects, painted wood art projects, and a Father's Day apron project.
Check out class availability at https://bookwhen.com/heartstrings#focus=ev-s121-20220503170000. New classes are posted every day.
"MUSIC SPEAKS" CONCERT THIS THURSDAY
The center's free "Music Speaks" therapeutic music series, in collaboration with the Iredell Arts Council, invites the community to visit the center on the fourth Thursday of each month to hear a local artist talk about their experiences of overcoming adversity as they share their musical talents with the audience.
Refreshments for the concert series are provided by the Mooresville-Lake Norman Exchange Club.
The next "Music Speaks" event this Thursday, April 28, features Clay Lunsford, with a meet and greet session from 5:30 to 6 p.m., followed by his music and stories of overcoming adversity from 6 to 7 p.m.
Lunsford was the youngest of seven siblings born to Ray and Nell Lunsford, a musical family with a deep heritage in old-time Appalachian music, both traditional and gospel. Clay has played with his family since the age of six and performed at over 11,000 musical events during his long musical career.
Lunsford, who credits his mom, dad, and family as his musical original inspiration, plays guitar, banjo, pedal steel, and other instruments. Clay has sung tenor with The Gospel Voices since 1968-69, when he dedicated his talents to God.
Clay is also the president of the North Carolina Thumb and Fingerstyle Guitar Players, created in 1997. Clay's favorite Bible verse, Psalms 101:1, reflects his mix of faith and musical ability: "I will sing of mercy and judgement: unto thee, O Lord, will I sing."
Previous concerts have featured local music artists Rockie Lynn, Eli Yacinthe, and Dani Kerr. The series will feature a variety of genres to appeal to introduce audiences to a diversity of musical styles.
FREE COFFEE BAR
The Gracie Center also features a large coffee bar, open to the public, with equipment and training provided by The Coffee Lodge. This program allows at-risk teens to train as baristas. Miller says running the coffee bar gives the teens transferable employment and people skills as well as income since they are paid for the hours they work.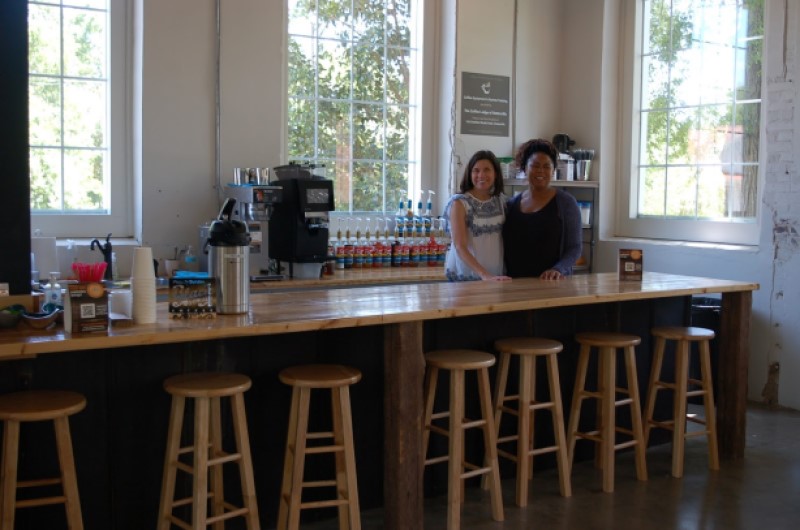 The coffee (cappuccino, lattes, espresso, flavored, and specialty), smoothie, herbal tea, and hot chocolate creations are free, but each customer table has a QR code through which they can make a donation to help fund the project.
The bar also has a monthly specialty coffee creation, this month featuring a "Peanut Bunny Frappe" for Easter.
The coffee bar operates on Monday through Thursday from 9 to 11 a.m. and 3 to 5 p.m. Miller said hours will be expanded this summer when the teens have more available hours.
YOUTH MENTORING SERIES
The Gracie Center also offers the free Empowering YOUth Mentoring Series (ages 15-21) to at-risk youth each Monday afternoon from 4 to 5 p.m., which teaches confidence-building and a variety of skills built around a new theme each month.
An average of 10 teens currently attends the programs each week.
This month's classes focused on "Borrowing Basics – Understanding Credit," teaching teens how loans work, options for borrowing, credit scores, interest rates and costs, and explaining how cash paychecks advances are financially harmful.
The sessions also covered goal setting and saving for future purchases and opening and responsibly monitoring checking accounts
May's sessions will focus on employment issues, including applying and interviewing for a job, free trade skill classes to earn certifications, free culinary certificate and audio production training programs through Aspire, and nursing career opportunities including types of nursing, funding nursing school and teen nursing field job opportunities, and applying to and interviewing for nursing jobs after completing school.
Upcoming monthly themes for the rest of the year include health and wellness, automotive buying and care 101, household care and repairs, and employment skills.
FOR MORE INFORMATION
For more information on any of these programs, contact Paula Miller at (704) 495-1272.