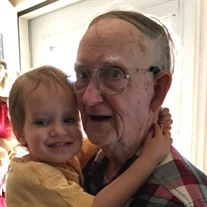 John Franklin McCrary, born October 14, 1940, went home to be with his Lord and Savior and Saturday, April 23, 2022.
He is survived by his wife of 57 years, Lavonne McCollum McCrary; children, Franklin McCrary (Bobbi), Tim McCrary, and Kim Heafner (Jon); granddaughters, Heather Fulbright, Katelynn McCrary, and Christina McCrary, step-granddaughters, Kayla and Laura Heafner, and Amanda Carina; grandsons, Cody Clanton (Nicole), Lance Clanton, and Austin Windbarger; step-grandson, Eric Pope (Caroline), step-grandson, Ryan Carina; great-grandchildren, Audrey Clanton, Carissa Fulbright, Addie, Harlan and Liberty; step-great-grandchildren, Nathaniel Roberts, Liam Heafner, Ella Pope, Caleb Pope, Carson Pope, McKenzie Pope and Silas Carina.
He was a retired firefighter of 25 years from Statesville Fire Department and Bassett Furniture Company, where he was a maintenance man. He served in the U.S. Navy for four years after high school before starting his career as a firefighter.
A Funeral Service will be held Wednesday, April 27, 2022, at 11 a.m. at the Nicholson Funeral Home Chapel with Rev. Steven Pope officiating. Burial will follow in Oakwood Cemetery. The family will visit with friends from 10 a.m. to 11 a.m. prior to the service.
You may watch the service at https://view.oneroomstreaming.com/authorise.php?k=1651006736180609.
Nicholson Funeral Home is honored to be serving the McCrary family.