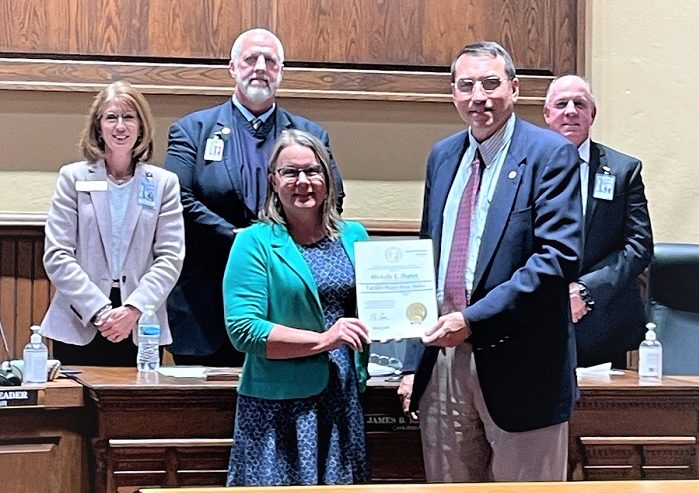 BY KARISSA MILLER
Former Iredell County Parks and Recreation Director Michelle Hepler was presented with the Old North State Award earlier this week.
The award, which was issued by Gov. Roy Cooper, recognizes the "dedication and service beyond expectation and excellence to the Great State of North Carolina."
Hepler provided 26 years of service at Iredell County Parks and Recreation before retiring at the end of March 2022.
Iredell County Board of Chairman James Mallory presented Hepler with the award during the May 3 board meeting.
Mallory said the award is reserved for people who have done exemplary work in the state for at least 20 years. The recipient must be nominated and then the application is reviewed by the governor's office.
"The contributions, recommendations and all of the other supporting documentation is highly scrutinized," Mallory said. "They don't just hand these awards out."
The chairman told Hepler that she could come back for another four years so that she be considered for the Order of the Longleaf Pine award, which requires 30 or more years of service.
"You can look around Iredell County and see the result of her handiwork," Mallory said. "Blood, sweat and tears in terms of planning, writing grants to get funding and overseeing the development of a number of recreation parks and facilities, including Big Leaf Slopes."
Hepler was instrumental in establishing the East Lions Club recreation center and bringing online the county's recreation center as well as moving the Ropes Course while securing grants along the way.
"It's an honor to receive this. I certainly appreciate the opportunity I was given here in Iredell County. The support I received throughout my entire career … contributed to the success and achieving this," Hepler said.
"Your contributions are much appreciated by us, by our staff and our citizens," Mallory said.
Commissioner Gene Houpe asked that the award stay with the commissioners so that they could get it framed for her.
In 2019, Hepler was recognized internationally by the Association for Challenge Course Technology
as the Critical Link Award winner. That same year, she worked tirelessly as Parks and Rec expanded its offerings with the opening of the Iredell Recreational Center and now offer everything from yoga classes to an outdoor pool.
"Although she has retired after 26 years in an official capacity, she didn't go far from her first love of recreation or Iredell County," Mallory said.
Hepler is the executive director of Rescue Ranch and continues to work in outdoor programming and developing educational programs for children.
She is also working part-time as a consultant with Aerial Adventure and Ropes Challenge course industry for Vertical Solutions Consulting.